Hey all, Ernie here with a fresh one from David Buck. Let me be straight up with this one: I think he outdid himself here. Read on for a whole lotta Halloween.
Today in Tedium: Pop culture is weird. Winter holidays tend to inspire pop culture and in turn, some pop culture informs and inspires aspects of how we celebrate some of these holidays. Halloween is one holiday that people love. Maybe you feel a warm nostalgia for bygone days of trick or treating or you simply love the atmosphere Halloween invokes. Or perhaps you dislike the entire thing altogether. In today's Tedium, we're doing something a little different and celebrating Halloween through the weirdest lens of all—pop culture. Don't touch that dial. We're about to go channel surfing in The Tedium Halloween Special. — David @ Tedium
Today's issue is sponsored by Chargebee. More from them in a second.
$1.27M
The weekend opening box office gross of the original A Nightmare on Elm Street in 1984. (It would eventually gross more than $25 million in the U.S. alone, or $63 million in today's money.) Freddy Krueger and his misadventures have been incredibly popular in the three decades hence. While I'm not a fan of these types of movies, the film certainly captured the public's imagination, spawning numerous sequels, plenty of costumes, one of only a few 4-player NES games, and even a Treehouse of Horror segment on The Simpsons. There were also a few songs written about the movie as well. Our favorite—DJ Jazzy Jeff and the Fresh Prince's classic, "A Nightmare on my Street"—had an amazing music video that was lost to time … until it resurfaced in 2018.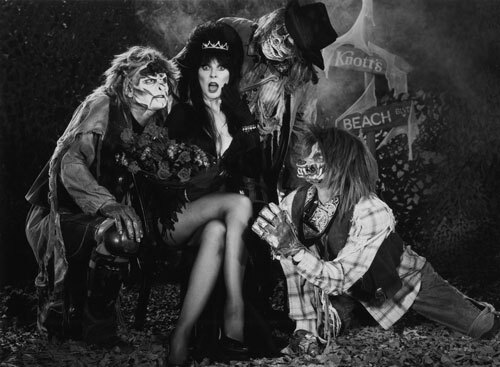 Elvira, an icon of the horror host form. (Orange County Archives/Wikimedia Commons)
Mystery Macabre Theatre 3000: The importance of the horror host
The tradition of dressing up for Halloween goes all the way back to its convoluted origins, but this isn't going to be an in-depth history lesson. Over the years, we've dressed as E.T. the Extraterrestrial, the Teenage Mutant Ninja Turtles, Universal movie monsters, clowns, and just about everything in between.
Once the allure of trick or treating and/or dressing up wanes, there are plenty of Halloween tinged pop culture alternatives on both big and little screens. Every holiday has them, especially Halloween and Christmas (or sometimes both). Regardless, movies are now just as much a part of celebrating the holiday as dressing up, bobbing for apples, and asking strangers for candy.
Films can be scary in their own right. I remember watching Disney's The Legend of Sleepy Hollow as a kid, and being terrified of the headless horseman. Based on the Washington Irving short story, it was probably my first encounter with Halloween appropriate literature influencing the pop culture I consumed. I grew up and never thought about it again until today. That uncomfortable feeling is still there, albeit significantly diminished. But that's what make scary films so effective and why horror as a genre is so significant.
Horror films have been a significant part of pop culture since the beginning of cinema, telling stories that reflect the anxieties of the time. The monsters and scenarios from these films became part of our collective minds and certainly inspired their own share of costumes and other Halloween ephemera. Traditional horror films eventually paved the way for slasher and psychological horror films, which themselves transitioned into some of the technology-based films that are popular in the marketplace today. Monster movies are still around, but in completely different forms.
The intersection of pop culture and Halloween, however, comes with the territory of exploitation films and B-movies, which became fodder for the late night horror hosts that came to prominence around the 1950s with Vampira—a character then aspiring actress Maila Nurmi played between 1954-1955 on Los Angeles' KABC-TV—and the legendary John Zacherle (whom we covered last year). The hosts would play old Universal Horror films, B-movies, or schlock films and often create skits or crack jokes about the films while promoting them. This eventually evolved into the Mystery Science Theatre 3000 style riffing on the films these hosts would eventually adopt—years before MST3K even came out.
Later, Larry Vincent played a character called Sinister Seymour, hosting the show Fright Night in the Los Angeles market. Following his passing, the show was off the air until the station decided to bring it back from the dead. A young woman named Cassandra Peterson auditioned for his replacement, and won. With a quick wit and a strong sense of humor, she hosted her the show as Elvira, Mistress of the Dark. That show—Elvira's Movie Macabre—went from being a local program to a nationally syndicated show, followed by albums, commercials, comics, feature films, a best selling costume, and a scale model kit or two. She was also the first horror host to be nationally syndicated and is largely considered the Queen of Halloween.
Then there was Cleveland's Ghoulardi, whose influence extends well into the punk rock world, but almost no footage of his show survives. Chicago's Svengoolie (Jerry G. Bishop) came along in 1970, followed by Son of Svengoolie (Rich Koz) in 1979 until 1986. In 1995, the "son of" moniker was dropped when Koz returned to television and he became simply Svengoolie. Koz's Svengoolie shows are some of the funniest, most cleverly written programs on television—with plenty of song parodies and rubber chickens to go around. Current and past Svengoolie episodes are a blast and shouldn't be missed for fans of bad movies and good humor.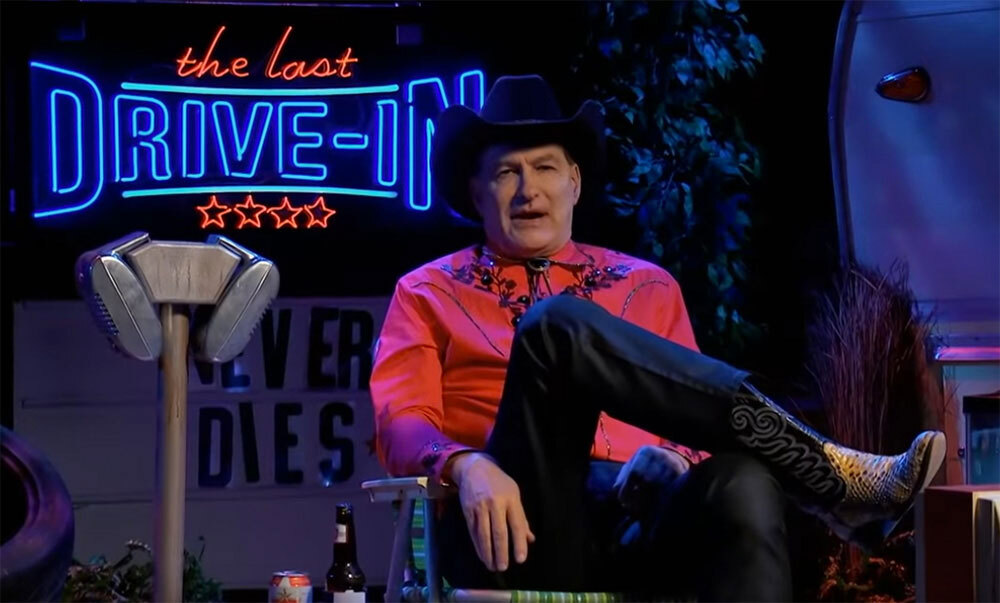 Joe Bob Briggs is in the midst of a comeback thanks to The Last Drive-In.
Joe Bob Briggs' Monstervision filled the gap for awhile, but eventually horror hosts largely faded away. Well, except for Briggs. His newest show, The Last Drive-In, is an extravaganza of schlock and awe, done in a way that is uniquely Mr. Briggs. The best part? It was just renewed on Shudder for more episodes.
Today, Mr. Lobo and Svengoolie carry on the tradition of the late night horror host—the former with his Cinema Insomnia series and the latter Saturday nights on MeTV. The recent resurgence of late night horror hosts is a promising sign—and makes for good viewing any time of the year.
A sponsored message from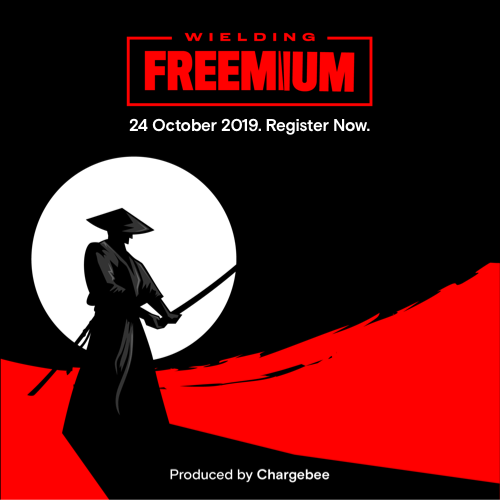 Running a startup? Here are two founders you should meet:
1933. South Dakota. Dorothy, a pharmacist named Ted Hustead's wife has a promising idea, one that when fully realized will put their small drug store on the path towards 2 million annual visitors. An idea that allowed their destinies to converge with those of "road weary" travelers visiting Mt. Rushmore: giving away free ice water. That store, of course, was (and is) Wall Drug.
That same dynamic of giving away free value in order to drive growth, is at the heart of some of the biggest tech brands. Spotify. MailChimp. Trello. Wistia. All consider the freemium model a key reason for their incredible successes.
But, what, exactly, makes it tick? And, as a startup founder/operator, how can you wield it for growth? Hear from those who've mastered it at companies such as Skype, Dribbble, and Atlassian on Wielding Freemium!
Register (for free, of course) for Wielding Freemium, the first-ever virtual event, dedicated to understanding this growth model.
"The Shaggs knew exactly what they were doing. They might not have been able to do it as traditionally as other bands. They might not have been able to keep their guitars in tune or to keep a standard 4/4 beat, but we have a chart for 'My Pal Foot Foot.' It's all there. She [Dot Wiggin] knows exactly what she was doing."
— Jesse Krakow, who played bass, guitar, and keyboards on original Shaggs member Dot Wiggins's solo record. Reverently referred to as "the Grandmothers of Punk," by Dot's band members, The Shaggs are an outsider music institution. We'd write about them more often, but they've already been covered extensively by Susan Orlean and Irwin Chusid. "It's Halloween" is perhaps the quintessential Halloween anthem, warts and all. Frank Zappa thought The Shaggs were great, and the Mistress of the Dark herself even covered the devilish ditty in 2018.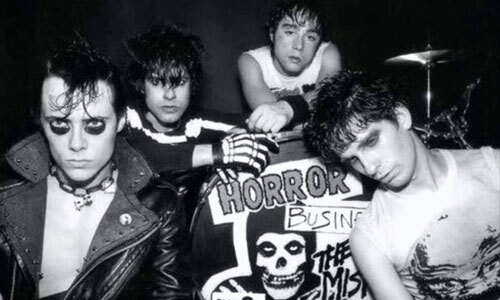 The Misfits, a quintessential horror-themed band.
Christmas music hasn't killed the musical mayhem of Hallween music just yet
From the first week of October onward, Christmas Carols are nearly inescapable. They permeate the airwaves, pop up on television, and attempt to overshadow Halloween and Thanksgiving more and more with each passing year. The only place I've ever heard Halloween music in public was at a Spirit Halloween Store, yet there is an extensive amount of Halloween and macabre/horror themes music out there.
From the throaty growl of Thurl Ravenscroft on Disney's "Grim, Grinning Ghosts" to songs like "Mysterious Mose" in 1939, Halloween music has always been a part of the music scene. The 1930s were a great time for Halloween music—1937 brought us The Five Jones Boys and their classic "Mr. Ghost Goes to Town" and the Cab Calloway 1931 performance of "The Nightmare." We did the mash in the 1950s, met The Munsters and listened to more Zacherle in the 1960s, grooved to music curated and performed by Elvira in the following two decades, and hit the apex of the Halloween celebrations in music with Michael Jackson's "Thriller" in the 1980s.
Other groups took the idea further with Halloween themed concerts or imagery. The Misfits, who recently played Madison Square Garden, are perhaps the best example of a horror themed band, however, complete with sci-fi and horror imagery, lyrics inspired by B-movies, and a Halloween anthem of their own.
Oingo Boingo were known for their legendary Halloween shows and some of their material reflected the macabre aesthetic of the holiday, notably "Dead Man's Party" and "No One Lives Forever." Frank Zappa loved Halloween and regularly performed concerts on or around the holiday. His legendary run at New York's Palladium in 1977 (the same shows from which Zappa's Baby Snakes film was assembled) are a prime example of the Zappa Halloween experience. The shows were released in 2018—complete with an Oh Henry! Candy bar-shaped thumb drive and a vintage Frank Zappa costume (mine didn't fit, but the music was great).
In the internet age, it's easier than ever for Halloween-specific songs to get released and heard, but they just don't get the same level of affection that music from the other holiday receives. But for the true Halloween Carol experience, musician Kristen Lawrence creates Halloween and Fall music, perfect for any occasion.
Five great songs to spin on Halloween
It's no secret that we love "The Monster Mash" around here ("Monster Mash" is a solid pick, to be honest — ed.), but there are a plethora of other songs we love to spin around Halloween. Some of them aren't specifically intended as Halloween carols, but they get the job done just the same. It's difficult to choose only five, but here goes:
5. "The Addams Family," Vic Mizzy
With the new pop culture revival of The Addams Family in full effect, it feels appropriate to kickoff a Halloween celebration with this groovy, iconic theme. The titular family of misfits have a rich cultural history, with plenty of films, cartoons, and video games to go around. There's even an Addams Family musical.
Vic Mizzy was a songwriter before he began composing for television in the 1960s. Mizzy didn't just compose the song—he came up with and directed the original TV series title sequence, as he told The Television Academy in 2004. Mizzy was also responsible for theme for "Green Acres" and scored a few Don Knotts films during the 1970s. He'd continue to work in composition until his passing in 2009, leaving behind a legacy of beautiful music that's well worth a deeper look today.
With its groovy melody—augmented by finger snaps and a deep voice (perhaps it could be Lurch?)—the tune feels right at home around this time of year and no Halloween playlist should be without it. This theme is both neat and sweet, whimsical, and under two minutes. I especially like how the song devolves into chaos toward the end, complete with sound effects. Here's a cool 8-bit version.
Like many television programs of the time, The Addams Family had its own soundtrack LP. Vic Mizzy' s Original Music from The Addams Family arrived in 1965. The LP is features a fancy version of the title theme, and individual songs for Thing, Lurch, Gomez, and Morticia. There's a surf-tinged cut called "Uncle Fester's Blues" and an atmospherically appropriate closing piece, "The Anxiety Tango." Expect to spend upward of $40 on it though. At only 28 minutes, that's roughly $1.42 per song. You can't beat that, right?
4. "With Her Head Tucked Underneath her Arm," Stan Holloway
The tragic tale of Anne Boleyn—one of several wives King Henry's had executed during his reign is immortalized in this song. Played as a dirge with spine tingling undertones, this song takes a few both dark and light turns at times. It's definitely a relic of the past and a bit historically inaccurate, but incredibly fun to hear.
Stan Holloway—a popular British actor and singer—recorded what is probably the best known version but there are many other superb performances available for your listening pleasure. The tune was widely covered by such musical luminaries as The Kingston Trio, Caryl P. Weiss, and Rudy Vallee.
3. "I Put a Spell on You," Screamin' Jay Hawkins
You've probably heard this song in the 1993 smash, Hocus Pocus. But you haven't truly heard "I Put a Spell on You" until you've heard the original by Screamin' Jay Hawkins. If you were fortunate enough to attend one of his performances while he was alive, you would have been treated to quite the spectacle.
Hawkins used to perform in full Halloween regalia and burst from a coffin on stage as part of his act. He had a skull-topped staff named Henry that he used to have on stage with him. The man was a Halloween legend and prolific songwriter who left behind a legacy of incredible blues music, which is being kept alive today by The Resurrection of Screamin' Jay Hawkins.
It's best to experience this song in its original version, but the Hocus Pocus version is a fun alternate take on this Halloween classic.
2. "Haunted House," Jumpin' Gene Simmons
Rockabilly meets the Amityville Horror. Who could ask for more? The singer moves into his new house, only to have a ghost attempt to evict him from his new home. At one point the ghost drinks the hot grease from a frying pan and steals the singer's breakfast. This doesn't seem to deter our protagonist, however, as he constantly reaffirms that he owns the house and he "ain't gonna run."
Jumpin' Gene Simmons had a modest career performing and writing for other artists, but this song is one of his greatest performances from his long career.
1. "Who Done It?," Harry Nilsson
Now here's a deep cut. Harry Nilsson was famous for his amazing singing, tight songwriting, and partying with John Lennon. He also had a wicked sense of humor. This Agatha Christie influenced piece is pure Halloween fun. Inauspiciously placed midway through Nilsson's final RCA album Knnillsson, this song is truly a hidden gem. By this point in Nilsson's career, his ultra successful Schmilsson period was well behind him and he'd begun exploring more lush, complicated arrangements in his work.
Featuring a killer groove and lush arrangement by Van Dyke Parks along with Harry's scenery-chewing acting, the song is like a miniature movie for your ears. If the film version of Clue were ever condensed into song form, this could be a contender. This wasn't Nilsson's only foray into scary themes—in 1974, he did the music for and starred in Son of Dracula with Ringo Starr.
For more Halloween music, my internet friend Nick Douglas at Lifehacker put together a fantastic Halloween mixtape last year. It's packed with all the spooky tunes and scary melodies you'll ever want or need. Grab a few Halloween episodes from Dr. Demento.com—I recommend the Halloween shows from 1983, 1984, 1985, 1999, 2008, and 2018—and you've got yourself a bonafide, spine-chilling Halloween dance party.
"All we want to do is eat your brains. We're not unreasonable … no one's gonna eat your eyes. If you'll open up the door, we'll all come inside and eat your brains."
— Singer/Songwriter Jonathan Coulton, from the song "Re: Your Brains." Released as part of the former coder's Thing-a-Week project From Plan 9 from Outer Space and Night of the Living Dead onward, zombies have long been a subject of great public fascination. When Coulton performs the song live, he instructs the audience to sing along … badly, effectively creating a temporary zombie chorus that's very much alive.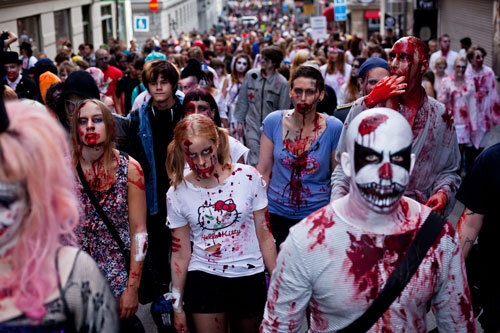 How pop culture inspired a modern day Halloween event
Have you ever wanted to do the Zombie Jamboree for real? Some people have been doing it for years with Zombie Walks. These events—where large numbers of people dress as horrifying zombies and shuffle through a city's streets—are a more recent phenomena related to pop culture and Halloween. With the cavalcade of zombie and undead related films throughout the early 2000s, it's no wonder zombie costumes became popular and the idea of doing a crowd-based walk in the era of the Flash Mob. Zombie Walks are friendly, open events. Per The The Zombie Walk Handbook:
A zombie walk is an organized public gathering of two or more people who dress up in zombie costumes and make up. Usually taking place in an urban centre, the participants make their way around the city streets and through shopping malls in a somewhat orderly fashion and often limping and gnawing their way towards a local cemetery (or movie theater).

During the event participants are encouraged to remain in character as zombies and to communicate only in a manner consistent with zombies (such as grunts, groans and slurred moans calling for "brains".)

The main objectives of your zombie walk are to 1) give the participants a fun, safe event and 2) to collect food for your local food bank.
The walks have expanded to be a staple of some community celebrations, with the Travel Channel even providing a list of the top Zombie Walks around the world. Zombie Walks are held to celebrate more than just The Walking Dead—though you'll find yourself in good company at some walks if you're a fan. Some of them are dedicated to collecting canned food for the less fortunate while others are used as community fundraisers or attempts to set a world record.
So, what happens if it rains or snows during the walk? The zombies can always just go bar hopping.
Ultimately, HalloweenWeb tackles the subject of Zombie Walks best: "Every year, more and more "zombies" join forces to create an almost movie-type atmosphere where only the dead can roam. Where else can you disguise yourself to look absolutely disgusting and fit right in?"
1999
The year Roger Barr established the website i-Mockery.com. Focusing on pop culture, Flash games, Monster Cereal (with Barr humorously snagging a segment on the MTV show Obsessed over Boo Berry Cereal), and humor, the site built quite the following over the past two decades—largely on the strength of the site's two-month long Halloween celebration. At its peak, it wasn't unlikely to find a Halloween music jukebox, spooky longform features, episodes of Barr's horror host style show Doc Mock's Mausoleum, and even holiday themed packages featuring all manner of Halloween goodies for sale. Later, Barr created the NES-tribute game Abobo's Big Adventure and more recently, the graveyard adventure Grave Smashers—the latter of which would never have come into existence without this site and his unabashed love for the holiday.
Halloween celebrations have already moved well into the digital world, with various creators and publications celebrating the holiday in ways that appeal to their audiences—another form of the holiday inspiring pop culture itself.
These days, large YouTube channels like James Rolfe's Cinemassacre are keeping the pop culture Halloween tradition alive with Rolfe offering Monster Madness episodes and his own homemade horror films.
Musically, the 1996 song "Spooky Scary Skeletons" became a meme and eventually a YouTube institution recently, with a large number of creators performing unique versions of the song across the platform.
Times and tastes change as often as the seasons do, but as time marches on one thing remains constant—pop culture and Halloween co-exist in a symbiotic relationship, regularly influencing each other.
Now if you'll excuse me, I need to go finish Luigi's Mansion. Until next time, have a safe and happy Halloween from all of us here at Tedium. Goodnight and don't let the vampires bite …
--
Whew! That was a lot of Halloween from David! You should share it so everyone knows how much of a pop culture expert he is. Oh yeah, thanks again to Chargebee for sponsoring. See ya next time!