Today in Tedium: There's always something to admire about a well-considered touring bill, where the bands on the lineup fit together so well that it makes you want to drop everything and go, where the bill is stacked all the way down. (Example: If Pearl Jam and the Foo Fighters ever co-headlined a tour, every Gen Xer within 50 miles of the venue would show up.) It's not easy to put this kind of lineup together in a non-Coachella-style environment, and it's even harder to have such lineups appear every single week. Not just one great musician. Four or five. But a TV show, long forgotten about by modern music fans, managed to perfect this model, and it deserves a place in the modern discussion. Today's Tedium talks Sunday Night, a Saturday Night Live spinoff that put music legends on the stage week after week after week. — Ernie @ Tedium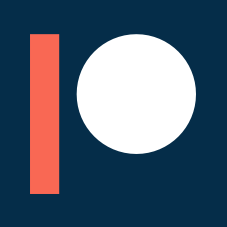 Keep Us Moving! Tedium takes a lot of time to work on and snark wise about. If you want to help us out, we have a Patreon page where you can donate. Keep the issues coming!
We accept advertising, too! Check out this page to learn more.
1988
The year that Sunday Night, originally envisioned as a musical counterpart to NBC's SNL, debuted on the network. The show was designed to bring together a whole bunch of disparate musicians, many of whom were big names, and have them perform both older songs and newer tunes. The concept was formulated by a number of figures who had close associations with NBC during the era, including jazz musician David Sanborn, who spent time in the SNL house band and frequently guested with Paul Shaffer's band on Late Night With David Letterman. Sanborn reportedly sold the idea to Lorne Michaels, who gave it the room to breathe on NBC, where it spent its first season. During its second season, the show was syndicated and its name was changed to Night Music, in part to allow syndicators to air it at any time of the week; during both seasons, the show was presented by the beer brand Michelob.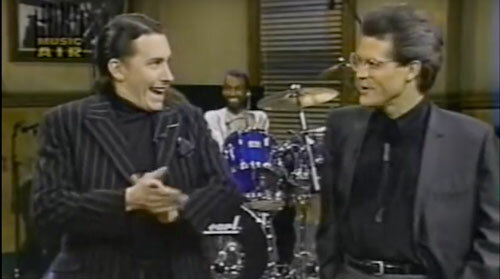 The Sunday-night show that turned popular music into a stew
"No show on television, a medium famous for having neither memory nor latitude, has as generous a sense of musical history and democracy as 'Night Music.'"
This great line about the show, written in a 1989 New York Times article ahead of its second season, simply states fact about what this show represented.
In a single episode in its first season, Sunday Night could have a pop star on a hot streak (Taylor Dane, still basking in her "Tell It To My Heart" glow), a legendary soul artist (Curtis Mayfield), and a reggae musician (Shinehead).
This show could make room for a 21-year-old Harry Connick Jr. on the same night where it reunited Velvet Underground icons Lou Reed and John Cale.
And famed jazz musician Sonny Rollins and a synth-era Leonard Cohen could appear on the same episode as Was (Not Was), that funk band best known for "Walk the Dinosaur."
And that's just during the first season, before it got its name change to Night Music and went to first-run syndication. During season two, Eric Clapton showed up more than once. So did the Red Hot Chili Peppers, Miles Davis, and Warren Zevon. The Pixies' American television debut came on the same night that Sun Ra and Al Green performed.
And these musicians, quite often, were brought together almost in a soup of musical talent, complete with simple formula—basically, throw them in the same room, plug everything in, turn on the cameras, and see what happens.
This was literally a music show for people who didn't care about the pop charts, but who knew enough about music to look at the weekly lineups and go, "Holy freaking heck, how did I not know about this until now?!?"
And it had hosts who were nearly as eclectic as the artists who often performed. Sanborn, a saxophonist who was known as an instrumental icon of the smooth-jazz era, would frequently play with the very guests he would introduce as a part of the house band. And Jools Holland, a first-season host who was then a member of the band Squeeze, would soon became much better known for hosting a somewhat similar show in the U.K., Later … With Jools Holland. (Maybe like the panel show, it only makes sense across the pond.)
Of course, the show screamed '80s. Sanborn's big hair and the flashy suits worn by many of the male musicians gave it a somewhat establishment feel, especially at first—but then you would actually look at the musicians that they convinced to perform, and you realize that something truly special and unexpected was happening.
In a 2013 interview with Nashville Scene, Sanborn noted that the synergy was no accident: "The idea was to get musicians from different genres on the show, have them perform something individually—preferably something more obscure or unexpected rather than their latest hit—and then have a moment toward the end where everyone would kind of get together and do something collectively. That was where the whole thing started."
Sanborn, a guy who knows his music history, borrowed inspiration from another artistically ambitious network show, the 1950s-era CBS special The Sound of Jazz. That special was just 54 minutes long and never replicated again, but the performance brought together dozens of major jazz musicians from different stylistic eras. Count Basie, Red Allen, Billie Holiday, and Thelonious Monk all shared a stage in a jam session for the ages.
In 2001, famed vintage-minded NPR broadcaster Murray Horwitz described the one-time moment as such: "It's like having an outfield with Babe Ruth, Hank Aaron, and Willie Mays. It's unbelievable."
Sanborn noted that the special's format, beyond simply bringing big names together, had a loose format that turned these legends into real people. "You could see the cameras moving around behind them as they were interacting, and it always struck me that it felt like you were getting a very intimate look into what these people were really like," he told Nashville Scene. "They were performing, but they were more than performing."
That sounds like a tall order to recreate on a weekly basis, and the show was by no means perfect. For one thing, the format changed frequently, something seen in the show's ever-evolving set. The more colorful Holland was gone in season 2, with the Times noting that he "bantered relentlessly with the guests, although his efforts were often met with puzzled silence." By the end, it was just Sanborn leading the way.
But Sanborn had a lot of help—including the help of SNL creator Lorne Michaels, the sponsorship money of Michelob, access to some deep music-industry rolodexes courtesy of SNL-affiliated producers such as John Head, and a number of game performers who found the format appealing. And that allowed the show to recreate the spirit of that one-time moment every week for two whole seasons.
This is the kind of show that would literally thrive in the era of cable television or streaming, but likely only got the level of talent it was able to on a weekly basis thanks to its big-name backing.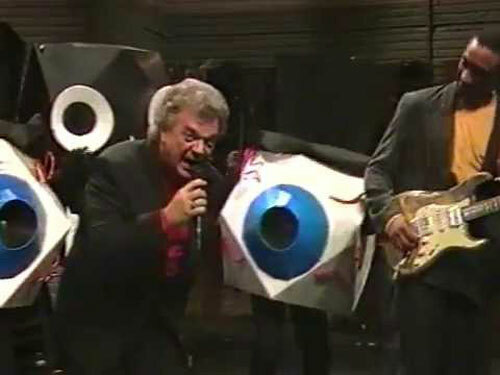 The musical producer that helped make the show just a little bit weirder
It's one thing to get Leonard Cohen and Sonny Rollins on a stage. That's inspired.
But one has to be a particularly offbeat mind to place Conway Twitty, a particularly stoic icon of the country music establishment, in front of The Residents, perhaps one of the most willfully weird music acts to ever exist.
But an episode of Night Music actually did this in 1990, and the result was truly something else. (Apparently, based on what he told me on Twitter, R. Stevie Moore was there that night.)
It's one thing to consider that a televised Lou Reed and John Cale reunion, airing not long after Andy Warhol's death, was something people wanted to see. But this? Clearly, a desire to melt brains was at play.
"That was a pretty interesting moment [laughs]," Sanborn told Nashville Scene in 2013. "The guy from Michelob actually came up to us afterward and said, 'What was that?!'"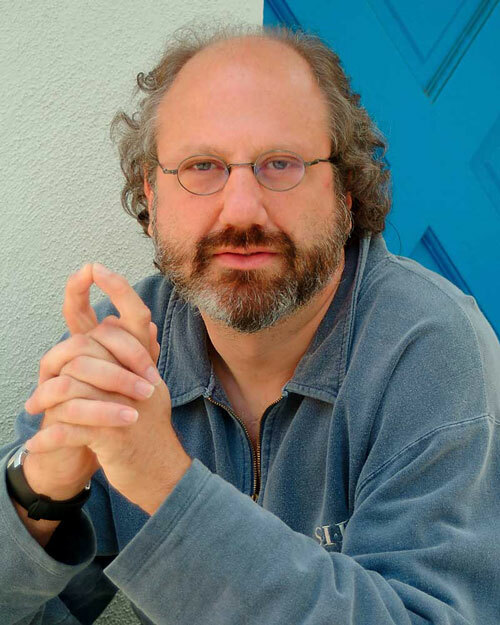 Sanborn may have produced the seed that created the show, but oddball music producer Hal Willner helped make it weird—in a good way. As a 1990 Spin article notes, Willner, who served as Saturday Night Live's music supervisor for skits for 40 years, helped to push the show further into bizarre realms as one of the producers.
He felt it was a service to music fans, who often weren't served their music with the right amount of culture.
"Beyond putting on music that we love," Willner told the magazine, "I feel an obligation to expose people to other things. I mean, watching MTV, they don't tell you about Ornette Coleman."
Willner's career includes a lot of interesting moments like this. As a producer, he worked closely with Lou Reed on a number of albums near the end of his career, most infamously Lulu, his collaboration with Metallica. He produced albums with artists such as Reed's widow Laurie Anderson, Metallica collaborator Marianne Faithfull, Lucinda Williams, and author William S. Burroughs.
But Willner's own projects, generally all-star tributes, are something else. Over the past four decades, Willlner organized tribute concerts and albums honoring a wide variety of figures, both somewhat cult (German composer Kurt Weill, best known for his work on the standard "Mack the Knife") and totally mainstream (the music of Disney). Some of these events have proven important stepping stones for others, such as when Jeff Buckley's career got an initial boost after he took part in a tribute concert for his late father, Tim.
Willner, who died last week from symptoms consistent with COVID-19, became so well-known for his tributes that he became the recipient of one in 2018. An obituary in the New York Times last week emphasized that the performances he organized were often in the spirit of Night Music: "Maybe you've dreamed of hearing U2 with the horn section from Sun Ra's Arkestra in a one-time-only performance at the Apollo Theater. If so, Hal Willner made your dream come true."
A 2017 Times article on Willner helps to expose what made his musical stylings so vibrant: New York, the city where he made his home for decades, and particularly the weird culture it fostered.
In that 2017 article—something of the definitive document on why he was so awesome—he worried about that culture going missing. From the story:
"I don't know what inspires people now," he said. "Maybe they don't need to be inspired in that way. Do these last two generations have heroes? I'm not sure they do. I go to Avenue A now and listen to what people are talking about, and it isn't culture. When John Lennon died I couldn't go to work for two days. I wonder if they have someone that they look at like that—an author, a poet, whatever. Those are people who made us what we are."
When looking at episodes of Sunday Night/Night Music, one gets the feeling that the people involved were trying to bring a touch of New York's musical culture—not just artists from New York (many of the above listed artists live elsewhere), but the city's musical vibrancy—to the small screen.
With that view in mind, it makes a ton of sense why Lou Reed keeps popping up in this story.
"It'd be great if the show could go on, if we could really reach and audience and feel an impact. I don't think there's anyone else doing what we're doing. Unfortunately."
— Willner, speaking to Spin in 1990 about the show's fate. At the time of the Spin piece, the show was near the end of its second and final season. After it was cancelled due to low ratings and its unfortunate time slot, everyone went their separate ways: Beyond Willner's long resume, Sanborn maintained his long career as an often-adventurous jazz musician, Holland returned to the UK and became a well-regarded TV host, and Lorne Michaels is still Lorne Michaels.
This bizarre artifact of the 1980s and early 1990s, literally a show with two names, never killed in the ratings—in fact, given the fact that it initially aired during the early hours of Monday morning, it was probably not designed to.
But one has to wonder if that obscurity, in retrospect, makes the moments it traded in feel all the more valuable, not unlike what happened in the 1957 with The Sound of Jazz. Certainly, there are other shows that offered interesting takes on music performance at the time—the first episode of MTV Unplugged came a year after Sunday Night's debut, featured a multi-musician format not unlike NBC's show, and actually featured members of Holland's band Squeeze—but part of the reason why Sunday Night/Night Music feels so unique and appealing now is because of its obscurity. When a clip from the show pops up in a YouTube feed, it feels like a secret worth sharing.
MTV Unplugged, in comparison, never languished. It became a major hit for the cable network, and new editions still air from time to time, usually with well-known artists. And it's probably fair to say that MTV regularly got hipper bands than David Sanborn's show ever did.
Lou Reed and Leonard Cohen, awesome as they were, had both aged out of the MTV demographic long before they appeared on this weird post-midnight music show. Music Television, as it once stood for, has rarely been home to jazz. And perhaps The Residents and avant-garde saxophonist John Zorn just weren't made for MTV. But well before some of MTV's most memorable Unplugged performers took the basic cable stage—including LL Cool J and Eric Clapton—they appeared on Sanborn's show.
As a host, Sanborn was no Kurt Loder, and Jools Holland would find a better home abroad. But MTV Unplugged was always about limitations—artists often bristled against the idea that they couldn't play an electric guitar on stage, most famously Kurt Cobain. Night Music, on the other hand, was really a format without limits. Perhaps it was more polite visually, but musically, it carried way more risk.
We need more shows like it today.
--
Find this one an interesting read? Share it with a pal!