Today in Tedium: Let's be honest with ourselves. As much as we'd like the products we purchase and invest in to be with us for the long haul, any product is a risk. Especially a new one, by someone untested. And when you invest in a product through a crowdfunding site, you may not necessarily know what the final result is going to look like—after all, that's part of the "fun," I guess. Sometimes you don't get a device at all. Sometimes, you get that device, but then all the people that were going to support it have essentially disappeared from view. I have one of those things, I reviewed it in this newsletter, and I'd like to talk about it—but I'd also like to talk about what comes after it. Today's Tedium looks back at the JingPad experiment, one year later, faded dreams and all—and talks to another creator with big dreams and a Linux-friendly tablet with lots of potential. — Ernie @ Tedium
Editor's note: By the way, Tedium is now on its own Mastodon server—be sure to give us a follow to check out what we're up to without the added influence of venture capital.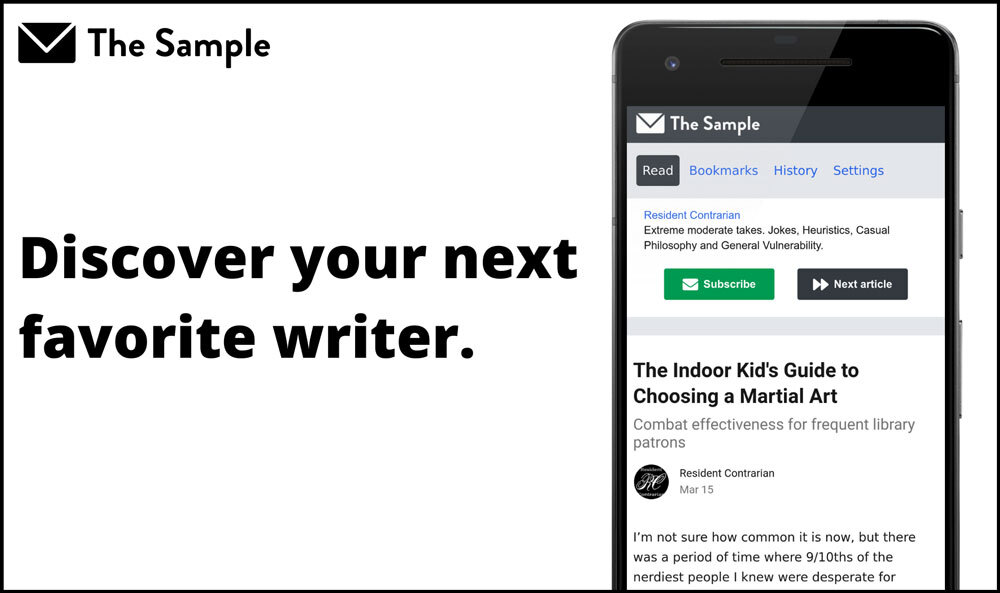 Find your next favorite newsletter with The Sample
Each morning, The Sample sends you one article from a random blog or newsletter that matches up with your interests. When you get one you like, you can subscribe to the writer with one click. Sign up over this way.
Today's Tedium is sponsored by The Sample. (See yourself here?)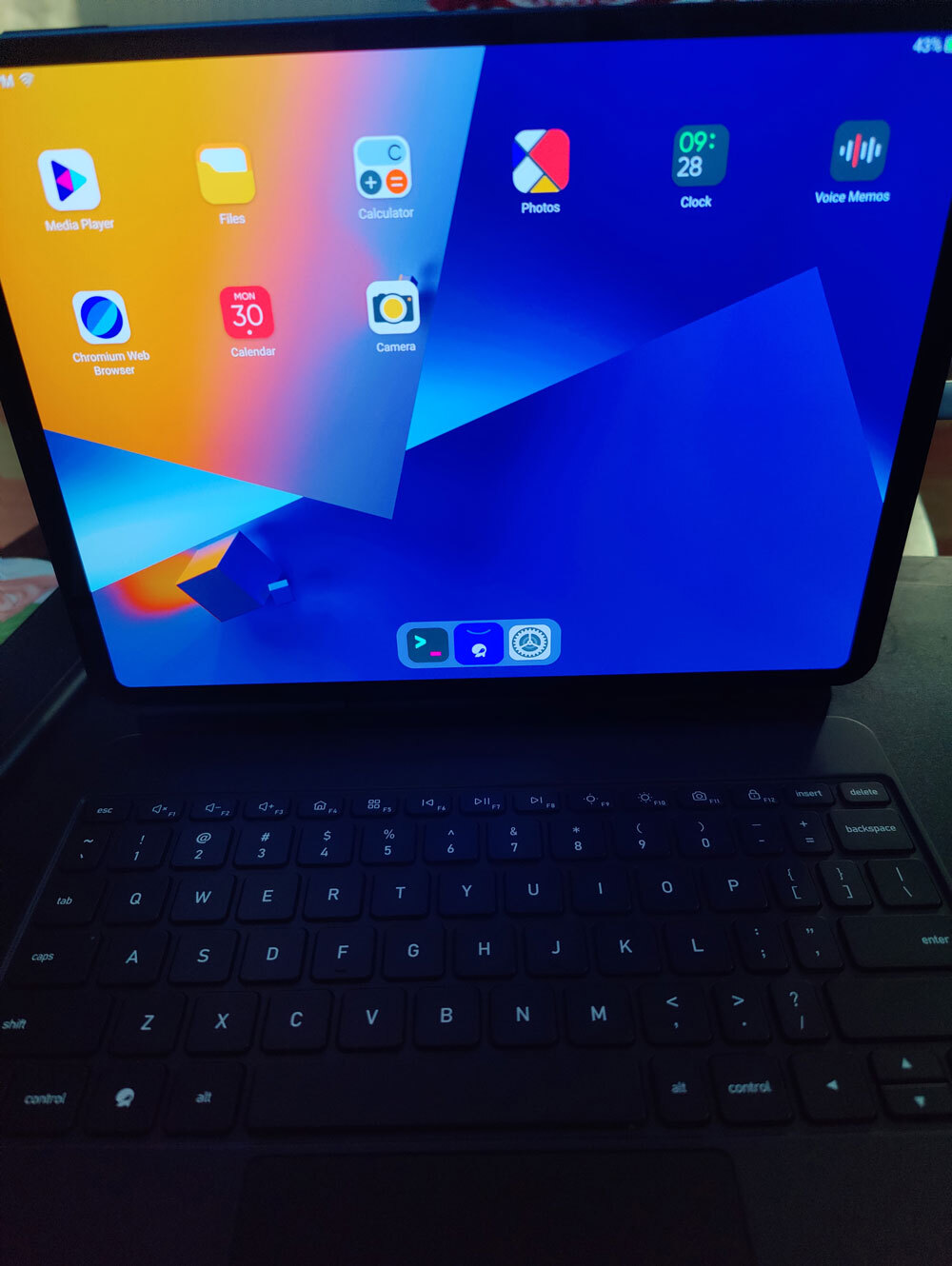 What happened to "The Great Linux Tablet Hope"
So, my general rule with reviews is that if something significant changes I try to do updates, if possible. With the JingPad, I decided I wanted to give myself a little more time to see how things played out. And rather than just updating the piece, I thought what happened probably deserved something closer to a retelling.
Almost exactly a year ago, I wrote a review of the JingPad in which I highlighted the good and bad of the device, which took a full month and a half to land on my doorstep when delivered directly from China.
It took a long time, but even after many delivery issues, including extended gummed-up delays in customs, it appeared, and I spent about two weeks playing with it before I wrote my full review. (I gave my first impressions over this way, in which I described the JingPad as "The Great Linux Tablet Hope.")
And you know, it was a pretty interesting device! It had a custom-built Linux distro that was one of the few developed with tablets as a primary use case, and that operating system had already turned a few heads on x86 computers, where users found it to be an attractive way to put Linux on a Microsoft Surface, for example. (Unfortunately the x86 distro had been discontinued after the JingPad was released.)
While I highlighted its potential—seen in the form of its bright, vibrant, 2368x1728 AMOLED screen, which was arguably of better quality than the LCD screen on the iPad Pro, as well as its keyboard accessory, which used a stand that gave the device a decent typing angle—I also noted that the software was in relatively rough shape.
Part of this was as a result of some decisions with the hardware that flew against the intended open nature of the device. Most importantly, the device relies on a Unisoc Tiger T7510 system-on-a-chip, a chip that was affordable, but essentially flew in the face of the basic concept the company was trying to sell. For one thing, the Tiger T7510 had at the time of the review not seen any development on the mainline Linux kernel. Worse, the device's 3D graphics are handled by PowerVR, a technology whose owner had somewhat infamously kept its graphics drivers proprietary, leaving them unavailable for the JingPad's planned use case.
As I put it in the review when describing my attempts to play a YouTube video:
Despite the chipset leading to the use of an old kernel, it has other driver limitations that emerge during use, specifically when trying to play a YouTube video in either Chromium or Vivaldi; it's dog-slow, to the point where it just seems like it's not worth it to play a 1080p video using the interface. That's not good news, given that this has a 2K screen, and a lot of what people would presumably be using this for is watching YouTube videos!
Spotting some critical commentary about the JingPad, I asked Samuel Dionne-Riel, a developer who works on the mobile version of NixOS, what he thought of my review after seeing a thread where he savaged JingLing for this specific decision, and he put it like this: "It is an attempt at forcing a Linux userspace to run on an Android vendor kernel tree."
To put it another way, it is Linux being hacked together on a platform nobody uses to run raw Linux, which was probably not obvious to many buyers until they actually got the thing in their hands. Unlike other platforms like the PineBook Pro, there will not be a future where this "just works" unless a lot of kernel work is done to add support for this chipset. (Turns out, Samuel was pretty much right.)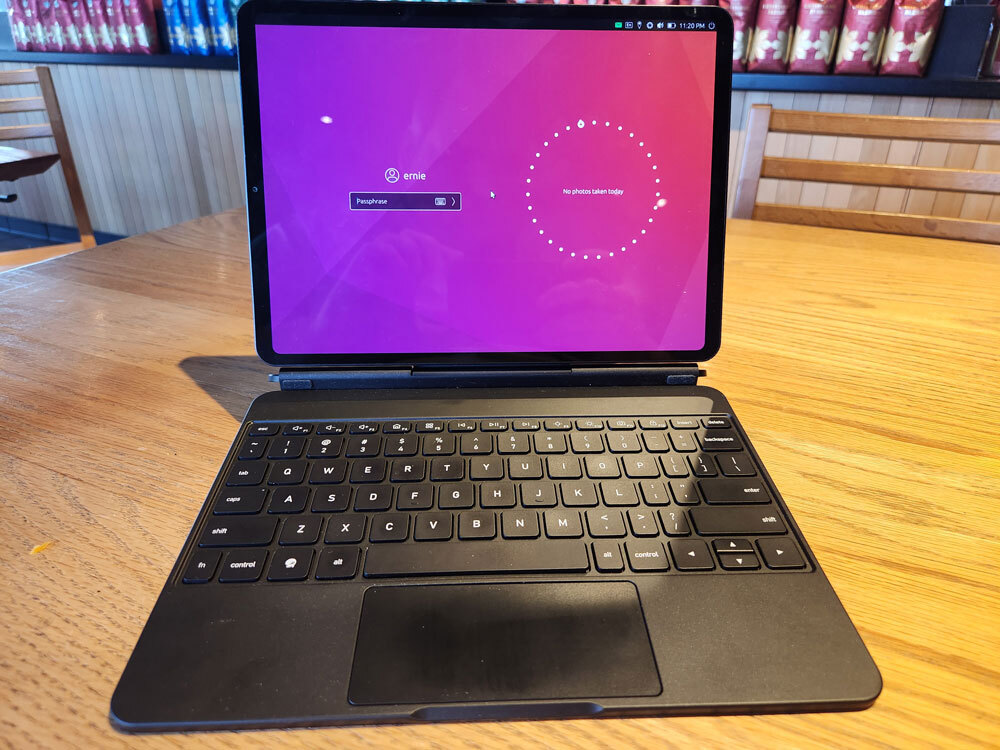 But the real problems arose after the review went up on the first of December. Things seemed normal for a little bit, with the company helping its customers get up to speed. During that period, I kept a close eye on the Telegram channel to see how things were evolving. In the first couple of months of the year, the device had seen the usual excited hackers who found that they could do interesting new things with the device all the time. Some had successfully gotten Android on the platform, which makes sense because the device was being sold in mainland China with Android support; others had started messing around with Ubuntu Touch, a mobile variant of Ubuntu with a long history and generally pretty good community support provided by the nonprofit UBports.
But by the end of January, it became clear things were faltering. The primary media contact for the company—the person I worked closely with ahead of my review—had stepped down from his role.
And then came the fire sale, an attempt to sell the devices at well under the cost of the original machine. It quickly became clear what was happening—and both the JingPad and JingOS have been essentially left for dead since about March or so. This company sold a ton of people on the device, then actually offered maybe four months of real support before the money ran out.
Oh sure, there are signs of twitching. The website, while still up, has a broken security certificate. The only comments the forum gets are spam. And the once-bustling Telegram channels have turned into ghost towns.
But the most telling part is that the source code, the very thing that was supposed to keep this product alive, has laid essentially dormant, with no public activity on its GitHub page since last January. (Those that still want to get this thing to work are now hiding out on the UBports forums.)
I think the team at JingLing had good intentions, but they were trying to do something bold and interesting with Linux while taking a shortcut that ultimately left the device out in the cold.
So now, a year later, I sit with a device that has two realistic options forward. I can continue to use it as an Ubuntu Touch device, with the possibility that said operating system (which I have given positive nods to in the past) continues to see improvement, despite being stuck on a port based on the nearly seven-year-old Ubuntu 16.04; or I can run it as an Android device, stuck on an outdated non-upgradeable version of Android, and unable to support any apps that rely on Google Play services (but still plenty able to run YouTube-based video at speeds JingOS wishes it could attain). I could go back to JingOS, technically, but given its lack of development, there will only be tears over time.
That Ubuntu Touch exists for this thing at all essentially represents a life preserver for people who would otherwise be stranded. At least the screen is nice.
2016
The year Canonical announced the release of the Aquaris M10 Ubuntu Edition, one of the first Linux-first tablet experiences. Highlighting the challenge of this market, the device—a 10-inch slab with a 1080p display and a MediaTek processor—received sharply negative reviews from mainstream publications. "If you want to multitask at all, the BQ Aquaris M10 isn't for you," a Laptop Magazine review stated. (Just as with the JingPad, the display got top marks.) It's likely for this reason that Canonical, a much larger company than any of the others featured in this piece, probably cut its losses with Ubuntu Touch, allowing UBports to step in to maintain the mobile distro.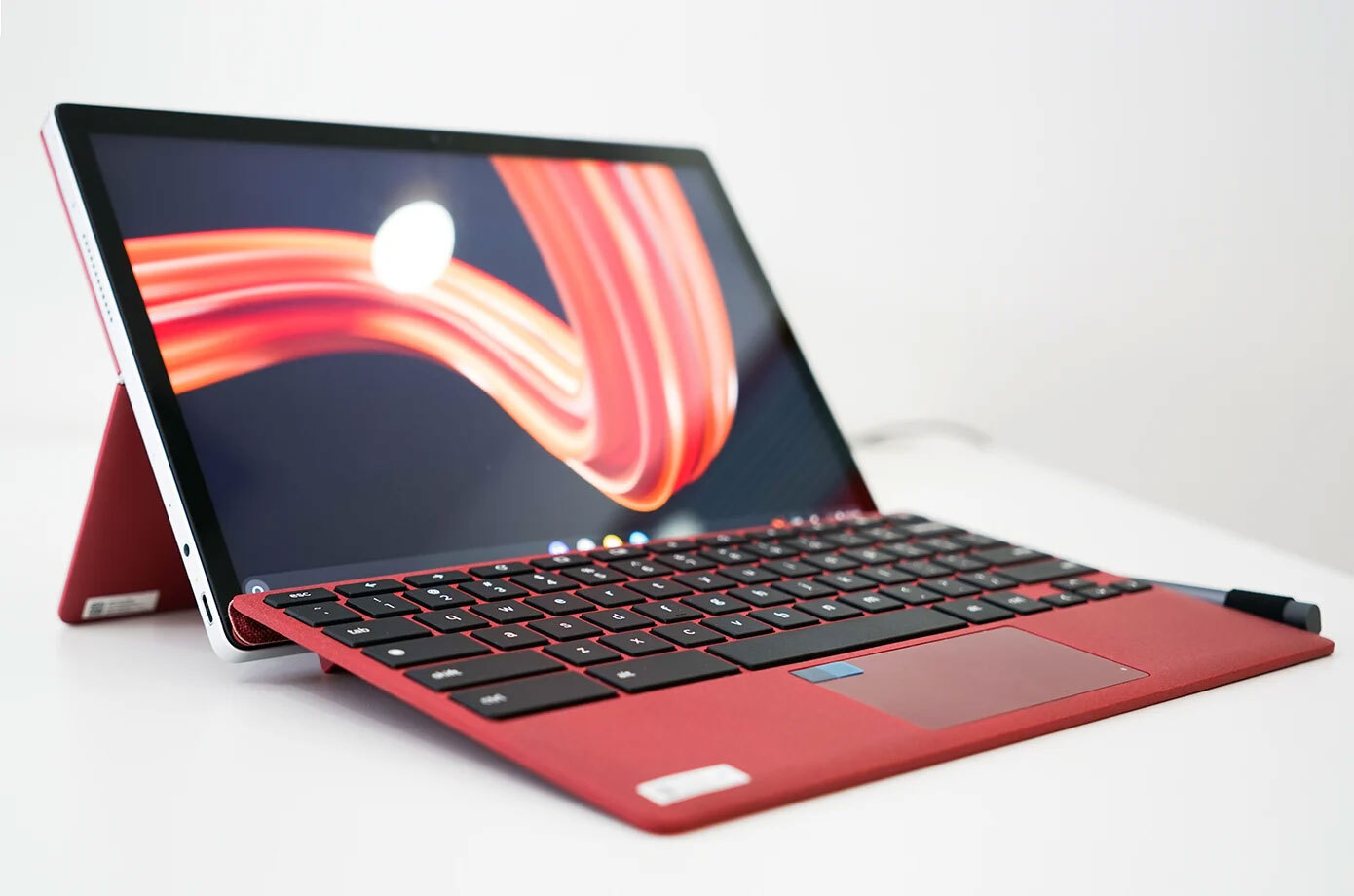 Can the Fydetab Duo work where the JingPad didn't? Here's what I learned from talking to the company's founder
As someone who has been following the Linux hardware category for a few years, I try to keep on top of things, so with the experience with the JingPad in the back of my mind, I found the announcement of another tablet project of a similar nature a month or two ago to be really interesting.
On the surface, the Fydetab Duo seems to have a very similar pitch to the JingPad—a fledgling tablet that treats Linux like a first-class citizen and is also being sold on Indiegogo (the cheapest package is going for $585, but is likely to sell out soon, leaving only the $644 standard edition). But it has some key differences that make it worthy of a discussion in this context.
One of those comes down to the operating system it runs—it's not straight Linux, it's FydeOS, a variant of ChromiumOS that is targeted at both businesses and individuals and has been around long enough that one could call it fairly mature. The company got its start in 2016 in the United Kingdom, with the goal of offering a simple, clean operating system that could be sold to businesses, with an enterprise support solution offered for those interested running this software with all the enterprise bells and whistles—think management portals, real-time monitoring, configuration policies, and so on.
Alpha Tang, the cofounder and CEO of Fyde Innovations who is playing a public-facing "support guy" role on social media ahead of the Fydetab Duo's rollout, said in an interview that his company has seen some disruptions over the years—including a move away from its original home base in the United Kingdom to focus on the Chinese market after Brexit complicated its original plan of marketing within the European Union—but for the most part FydeOS has very much kept to its original vision of being a clean, uncomplicated experience for end users.
"I would envisage Is this the future of an operating system. Google's mission has changed over the last few years. But my vision didn't really change that much," he said. "It was just streamlined and simple—where you have all the computational power on the cloud, but you just have an entry point on your local device. So that's the thing that I believe, and the primary reason that I'm still doing this after six years."
For years, FydeOS has been just one of a small handful of forks of ChromiumOS on the market. Neverware, which for years offered a version of ChromiumOS that worked on low-power devices as well as enterprise offerings, eventually was bought by Google, which turned the former company's work into ChromeOS Flex.
Fyde Innovations CEO Alpha Tang walks through the different features of the FydeTab Duo, including the ability to easily plug into a monitor—something the JingPad was incapable of doing.
And given that the other main company forking ChromiumOS at this point is Google, Tang's company (with around 30 employees) has been moving to build more of an imprint for itself. That's where the Fydetab Duo comes into play—and it plays a few key roles for Fyde Innovations. First, it's a statement piece, it gives them a device that they can bring into enterprise sales settings that is fully produced by them, under their name—something that Tang said could make explaining their work easier to potential clients. Secondly, it allows them to potentially sell these clients an option other than "we can install FydeOS on older computers." And finally, it gives them an opportunity to make further inroads to the enthusiast market, which has been increasingly interested in de-Googled or Linux-centric experiences.
"What we want is a demonstration that Fyde Innovations is a company that is capable of delivering on hardware products with its own OS that has been in a market for four or five years," Tang said. "This is the message that we want to send out to our users, our clients and our prospective customers in the future."
(Targeting the enthusiast market also, helpfully, allows them to have their own lane in the U.S. market, away from cheap-but-dominant Chromebook devices.)
Doing all this as a small software company is obviously quite the shift, but I got the impression from Tang that it was helping the firm stretch new muscles. When speaking, he made it clear that there are realistic challenges that come with managing suppliers as a smaller company—challenges that other firms, like JingLing, likely ran into.
"We have worked on our best to negotiate with a supply chain," he said. "It's really not built for companies our size with our ability to procure the the components of the tablet. This is the best you can do. … A company like ours would never be able to beat companies like Lenovo."
But if Fyde can navigate that supply chain correctly, it can come out with a device that it can be proud of.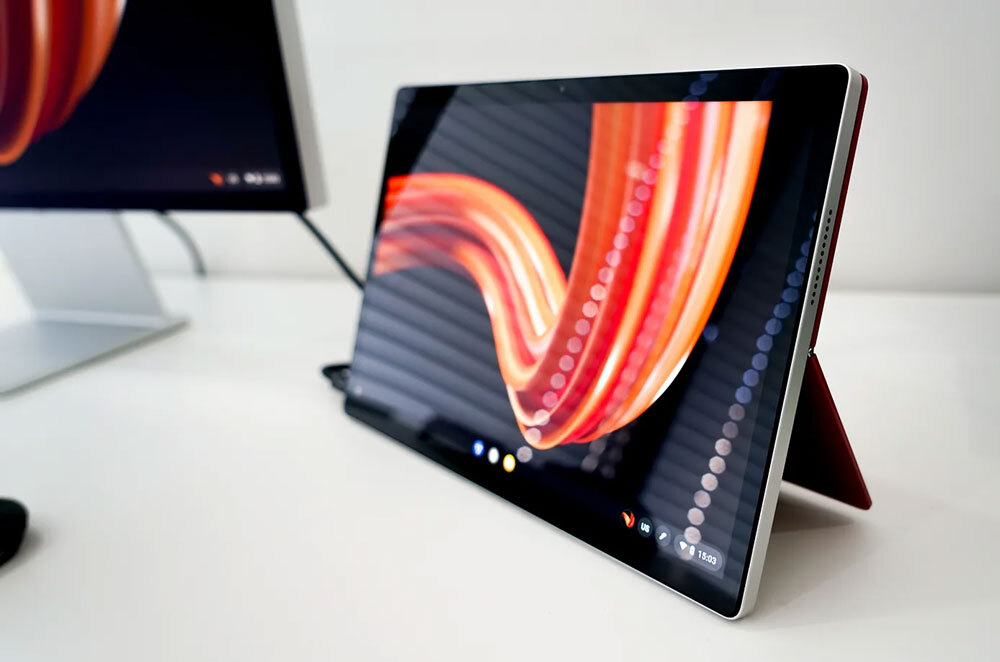 Fydetab Duo: Wait, I thought you said this was a Linux tablet …
Now, you might be thinking—this company sells a variant of ChromiumOS, which isn't a straight Linux distro! And yes, that is correct, but it's worth noting a couple of things:
FydeOS supports Linux and Android apps, just as ChromeOS does, meaning that it can support a number of diverse app workflows natively.
Fyde Innovations has spent time in the FOSS salt mines. During the pandemic, the company released an open-source version of FydeOS called OpenFyde, a fully broken-down version of the operating system that Tang said was "a massive undertaking." Additionally, it offers something a lot of distributions do not offer—paid commercial support for a nominal fee, if you want it.
The FydeTab uses standard ARM components, meaning that it will be possible to buy this device and put whatever you want on it, if you'd like. In practice, it can be easily unlocked and reflashed, allowing you to put other operating systems on this device easily.
So, about the hardware: This tablet, which comes with a 12.35-inch screen and a style akin to a Microsoft Surface, rocks a Rockchip RK3588S, an ARM-based processor with a four-core Mali GPU, has all the parts needed to support a whole slew of operating systems much like the Pinebook Pro. (Which, by the way, FydeOS supports!)
For those who follow this market, the key thing here is that the Fydetab Duo will likely not fall into the same trap that the JingPad did, thanks to a chipset that's more broadly used in single-board computers. And while not as fast as, say, a U-series Intel processor, it has gained a reputation for solid performance among reviewers such as the YouTube channel ETA Prime, who earlier this year praised the RK3588S as being the fastest system-on-chip that he had tested.
While I haven't personally had a chance to test the device myself, the YouTube channel TechHut has, and content creator Brandon Hopkins was able to run through FydeOS, Android, and Linux by simply flashing the device—while largely getting decent video performance, especially in Debian. This bodes well for the device's future as a device for tinkerers, even if Fyde Innovations is for some reason no longer able to support the device.
In many ways, the company has made the right promises out of the gate, and even has an existing business it can fall back on even if things don't work out.
That may or may not convince you that it's worthy of your time, but if you're interested in this market, it makes the device one worth keeping an eye on.
"The one thing that I found: The people, they haven't really used FydeOS, but because I'm a Chinese national, and the developers are in China, they kind of have the stereotype of FydeOS as being spyware. … I just want to kind of set the tone; well, this is pretty naïve, right?"
— Fyde Innovations CEO Alpha Tang, mentioning a common stereotype that he has run into among Western users when running his firm and building FydeOS—that the operating system is somehow suspect because it is made in China. When Tang spoke of this, he was clearly pained that he needed to bring this up at all, but felt it was an important opportunity to level-set. As mentioned above, Fyde started as a U.K.-based company and moved its operations to China as a result of Brexit, and Tang has dual citizenship and spent much of his life in the U.K., meaning he could leave China tomorrow if he wanted to. He spoke to the company's small size, emphasizing it was unrealistic it was even on Chinese government radars, but he also went further, speaking of the way divisive figures such as politicians have sharply changed our interactions in the time since he started Fyde. "It's just getting more segregated, the way that people just put tags on top of your head—you're American, I'm Chinese, I really don't like this," he said. "I miss so much of 2019, 2015, when I can talk to people like people, and we are all citizens of the planet Earth. I miss that so much, to be honest." I promised him I would get this in.
There's no guarantee that a crowdsourced or in-development product is ever going to ship. There are just too many variables that can go wrong. (Ask Wang Laboratories, which famously made a massive vaporware announcement back in the '80s.)
Even people with otherwise solid track records can fall victim to this problem. Just ask Tommy Tallarico, a legendary video game composer whose attempts to revive the Intellivision as a family-friendly consumer brand have basically gone up in smoke over the last couple of years, to the point where, when a rare piece of hardware showed up on an auction website, online sleuths quickly surmised it was his.
But I have to admit that I find something to respect about the JingPad team, even if they left a lot of people out to dry. Unlike so many of these projects, they managed to ship something basically on time and (from a hardware standpoint) generally of good quality. Where they fell down was the software, which was simply not ready and arguably permanently held back by decisions made during the development process. Maybe someday the Unisoc Tiger T7510 processor will be able to run an up-to-date Linux distro on a mainline kernel, but that day is not today.
After my conversation with Tang, I feel like it's important to impart the tightrope projects of this nature are walking. They are able to access manufacturing resources in the Chinese market to build new things, yes, but they are not working at anywhere near the scale of Apple or Lenovo or Google.
Tang expressed a degree of disappointment that JingLing was unable to solve the problems of bringing Linux to a consumer-friendly tablet device, but suggested it may have been a result of trying to do too much, too soon—a success in hardware that simply did not play out in software.
"To us, we have solved one of the problems that they faced: the maturity or the completeness of the experience of the operating system," Tang said. "But making hardware, you have to overcome a certain number of challenges that I think the company behind Jing already stepped over, and now I'm actually solving them."
I think in many ways, projects like these often feel a bit nebulous to Western audiences, so I'm appreciative that Tang was willing to offer such an honest perspective here. The Fydetab Duo (which again, is available on Indiegogo) has a lot of potential, just as the JingPad did. But I think it's important to understand that they did not start from the same place—and if Fyde succeeds where JingLing did not, that means it was able to effectively leverage its head start.
I love moonshots like these. I love even more when people turn these moonshots into reality. So even if the JingPad didn't work out, I praise both devices for even testing the waters.
--
Find this one an interesting read? Share it with a pal!
Are you a Mastodon user? Be sure to give Ernie a follow! And also give Tedium a look as well!
And thanks to The Sample for giving us a push this time. Be sure to subscribe to get an AI-driven newsletter in your inbox.