Hey all, Ernie here with another piece from David Buck, who is (of course) a font of knowledge of obscure and novelty music. This time around, he talks about the long cultural reach of one of novelty's greatest oddities.
Today in Tedium: For some folks, novelty music is a throwaway genre, destined to reside in the dustbin of the past. For others, it is a shimmering portal that leads into a dimension of higher appreciation of a variety of music, hilarious and maudlin; virtuosic and outsider; bizarre and tuneful … well, you get the point. We haven't done one of these in a while, so we're going a little bit weird(er). In this Very Special Episode of Tedium, we're taking a deep dive into Barnes & Barnes' classic song "Fish Heads." — David @ Tedium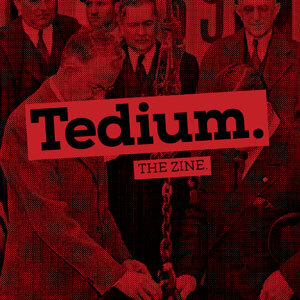 Last chance for a zine: The third issue of the zine is (finally) done! The only thing that's missing is your name on the back page. Want a copy? Support us on Patreon at a $5 level or above ($8 for international) by midnight Saturday to get in before the deadline. Time is running out—so act now!
1978
The year Dr. Demento first received a copy of the "Fish Heads," which subsequently became a massive hit on the show. A cursory glance at the Demented Music Database—an online database that catalogues the show's playlists over its almost 50-year history—reveals a large amount of airplay for the tune and several instances of callers singing their own version of the song as they request it. To date, the song has been played over 350 times—and that's not even counting the playlists that have yet to be catalogued at the DMDB.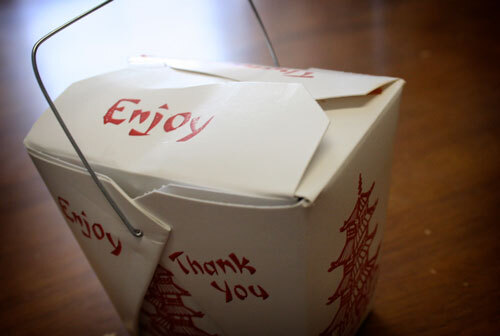 Sometimes a bad meal at a restaurant can turn into something legendary
The story of "Fish Heads" was inspired by a disgusting meal at a Chinese restaurant. But it's also the product of a musical vessel well-suited to making songs inspired by disgusting meals at Chinese restaurants.
Bill Mumy was a child actor known for his iconic roles in Lost in Space (as Will Robinson) and The Twilight Zone. (Remember the kid who magically wished people into "the cornfield?" That was Mumy.) Much later, he became better known for his portrayal of Lennier in Babylon 5 and had bit parts in Star Trek: Deep Space Nine. In between acting gigs, he pursued music and associated with the likes of Gerry Beckley from the folk rock group America.
During more manic times from the age of 16 onward, he comprised one half of a strange musical duo called Barnes & Barnes, with his friend Robert Haimer. It was a sort of side project for channeling a "certain type of energy," as he would later write in the liner notes to most of the Barnes & Barnes album reissues.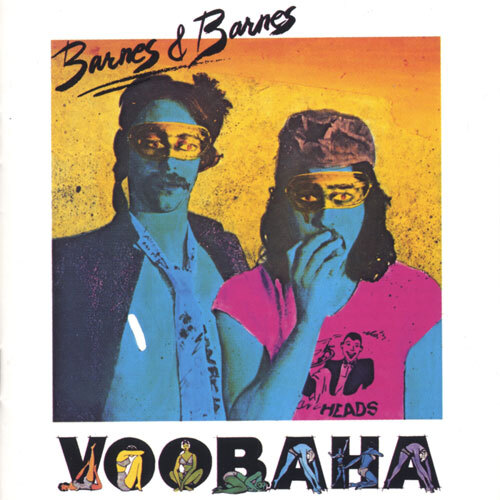 In the liner notes of the 1996 reissue of the first Barnes & Barnes album, Voobaha, Mumy writes that Haimer came up with the idea for the song after experiencing the infamous meal. It probably wasn't a $600 fish head soup, though.
Mumy was (and still very much is) a talented musician who mostly made straight ahead serious music. Occasionally, he and recording partner Robert Haimer would get together and write/record weird, funny, irreverent, groovy songs that were never really meant to see release. As Mumy explains in an Archive of American Television interview, Robert Haimer was a big fan of The Dr. Demento Show and wanted to send some of their Barnes & Barnes songs to the good doctor for airplay on the program.
Though their first song, "The Vomit Song," was rejected for various reasons (predominantly because it was a bit "too gross," as Mumy writes in the Voobaha liner notes), the next tape they sent contained "Fish Heads," which became a bit of an overnight sensation on the show. Dr. Demento knew it was something special, as he told Tedium via email:
I knew it would go over well on my show about 20 seconds into my first listen to it. Requests started coming in the same night I first played it, and continued to roll in steadily. After a few weeks of that, I knew it was going to be an all-time Dr Demento Show classic. I had the same feeling from Dead Puppies, which came in almost exactly a year earlier, and indeed those two are rivals to this day.
Per Mumy, the chorus was written by Haimer, while Mumy penned the verses. The iconic high-pitched vocals were a source of contention between the two where Mumy wanted to keep them sped up and Haimer wanted to have them at normal speed. At the end of it all, Mumy's idea won out and the rest is demented history.
"It's highly original, it's funny, and easily perceived as being funny. The music has a distinct sound and a good hook, but simple and direct. The production is clean. And for listeners of a certain age, it can be heard as a satire of the ubiquitous Chipmunks."
— Dr. Demento, via an email interview with Tedium, discussing why the song became such a hit with both his audience and among the general public.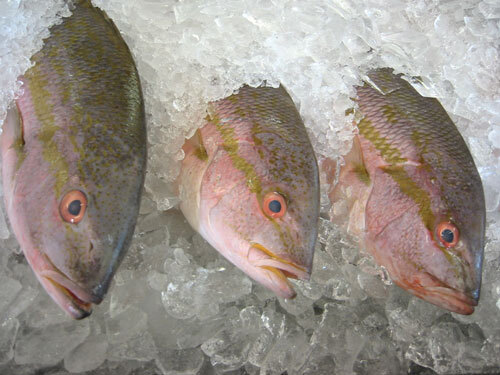 The song occupies a strange place in our collective pop cultural minds
Whether you love it or hate it, there's no denying the song provokes some rather interesting opinions. While I enjoy the song and count Barnes & Barnes among some of my favorite artists—especially the albums where they mix comedy and serious music, like Amazing Adult Fantasy—there are others who have their own unique takes on the song.
Jason Heller at The Onion AV Club, for instance, loved the song. He wrote in 2011:
"Fish Heads" by Barnes & Barnes, that remains my favorite Dementoid anthem. I probably gravitated to the song because everyone else hated it, and I just loved how people's noses would wrinkle at the mere mention of it. Beneath its layers of Chipmunks-meets-Residents weirdness, you have to admit it's catchy as hell. That's what makes it extra-annoying, right? When I later learned that actor and science-fiction cult figure Billy Mumy was half the enigmatic duo, that just made it even cooler. Barnes & Barnes wound up being Demento's house band of sorts, appearing on numerous comps and even backing him on his unofficial theme song ("Doctor Of Dementia," naturally). But "Fish Heads" will always be the tastiest.
He's not wrong; Barnes & Barnes were a big part of the show for several years, being interviewed numerous times and continuing to produce songs like "The Anniversary Song" and "A Bomb for Hussein" well into the 1990s.
While Spin referring to the song as "the 1980s version of Rebecca Black's 'Friday'" in 2012 is a bit odd, there was no outright dislike for the tune in the context of the discussion. It is interesting to note that many online lists refer to the song as a "guilty pleasure," but in the '90s, the song regularly made top ten lists on kids show radio formats and it continued its long reign of popularity on the Dr. Demento Show.
Dr. Demento was still getting calls for the song each week in the year 2000 and as of 2019, he told us it was still "the most-requested song of all time on the Dr Demento show. (It's just a nose ahead of "Dead Puppies" by Ogden Edsl)."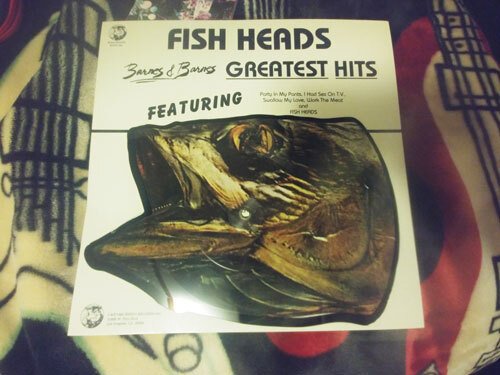 Check out this fish head-shaped EP, released in 1982 on the Rhino Records label. The full title of the EP is Fish Heads: Barnes & Barnes Greatest Hits. The 12" album contains five songs, including the title track. Not only was the record shaped like an actual fish head from the music video, it also contained a few rare (at the time) B&B tracks—"I had Sex on TV," which is a slice of satirical insanity interlaced with some PG-13 humor and "Work the Meat," a jaunty number sung by the character Butcher Bob (played here by Bill Frenzer of Ogden Edsl fame) about how he prepares the meat in his butcher shop. The EP also includes other tracks from the albums Voobaha and Spazchow. The Fish Head-shaped EP is one of the cooler items in the B&B discography and is still quite easy to find—not terribly expensive, either.
I took a fish head out to see a movie …
Perhaps the most iconic part of the "Fish Heads" legacy is the short film Barnes & Barnes made for the song around 1980. The music video was directed by a pre-fame Bill Paxton, and per Dangerous Minds, Paxton championed the video to the point that it aired on Saturday Night Live for two weeks in December 1980. (Yes, that's during the infamous Jean Doumanian-helmed season of SNL where the show went almost entirely off the rails.) The video would later receive regular rotation on MTV and eventually become a bit of a cult classic. Paxton was a regular staple of B&B's music videos for a while, which were always a bit on the surreal side.
The "Fish Heads" video is a slice of surrealist wonder that manages to be unique and interesting even in the modern day. It even made #57 on Rolling Stone's 1993 list of the "top 100 music videos." The video follows a man through his journey of a day spent with the titular fish heads. There are creepy cut-outs, a fish head party, trash-bag clad singers, fish heads in cowboy hats and much, much more! Dr. Demento played the role of a wino who becomes entranced when he sees a fish head in an alleyway. He told us about how he came to be involved in the video:
Barnes & Barnes had become good friends by the time they made the video. Along with Bill Paxton they'd conceived a basic scenario, with a part for me, before they called me. We drove around the old warehouse district near downtown L.A., which was nearly deserted on Sunday, until we found that building with a long loading dock for rail cars (which apparently was no longer used, since trucks had taken over that type of freight shipments).
Though his role in the video is small, it is difficult to imagine a version of the video in which his character does not appear. The video not only received airplay on MTV back in the 80s, it can also be found on the Barnes & Barnes VHS "documentary" Zabagabee and the VHS release of Dr. Demento's 20th Anniversary Collection. Zabagabee is worth it for the cost of admission—where else can one find Mark Hamill, "Weird Al" Yankovic, Stephen Stills, Teri Hatcher, Booji Boy (Mark Mothersbaugh from Devo), Flea (from Red Hot Chili Peppers) and many, many more all in one place?
"Yeah!"
The singular, excited phrase that succinctly ends every Barnes & Barnes song, including "Fish Heads." It somehow always makes an appearance and acts as a signature of sorts for the duo's unique brand of humor.
A few unexpected appearances of "Fish Heads" across various media
The Simpsons. As any massive Simpsons fan will tell you, Bart Simpson has two mortal enemies: Sideshow Bob and … Dr. Demento. In "Treehouse of Horror VII" there's a segment called "The Thing and I" wherein Homer sings the song as he takes a bucket of fish heads up to the attic to feed Hugo, Bart's separated "evil" twin.
Halt and Catch Fire. in a season four episode of the AMC television show, the song appears via a cassette tape one of the characters pops in the car. In a somewhat interesting coincidence, this show's website also had a copy of the original interactive text game—Colossal Cave Adventure—playable in your browser.
The Bicycling Guitarist. in this somewhat obscure music video I found while researching the supposed Eagle-Eye Cherry version of the song (which I believe is a myth; send us an email if you can find this), a bearded man rides around a gymnasium while playing a soft rock version of "Fish Heads." It's bizarre and quite frankly, fits the song perfectly. On a side note, I'm impressed that he can play so well while riding the bike—I'd fall flat on my butt, grievously injuring myself in the process. Probably. Yeah.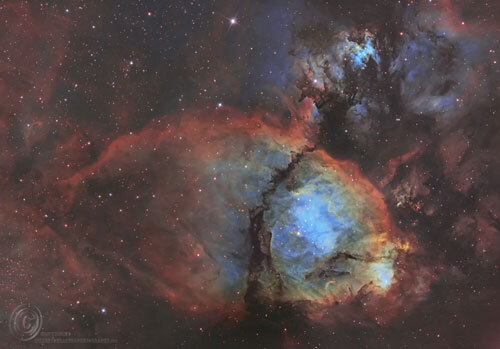 IN SPACE! Ok, this one has nothing to do with the song, but it's still pretty cool. The Fish Head may look like a fish head to some folks (it totally does), but it's actually a star that happens to be forming in the constellation of Cassiopeia. It's bright, it's colorful, it's a bunch of dust and gas...and it's phenomenal.
0:38
The length of Wildman Fischer's cover of "Fish Heads" from the Barnes & Barnes produced LP Pronounced Normal. Larry alters the lyrics a bit, but manages to perform the song in his truly inimitable style without missing a beat. It's short, but perfectly suited to the legacy of the song. As we wrote about Larry last year, Barnes & Barnes played a significant role in his later music and creative career.
The success of "Fish Heads" on the The Dr. Demento Show helped Barnes & Barnes forge a career in which they recorded several excellent albums, but they never quite reached commercial success. These days, the song has gained an entirely new life through an unlikely genre: punk. John Cafiero—manager of the Misfits and lead singer of Osaka Popstar—helped spearhead a punk revival of sorts for The Dr. Demento Show with last year's Dr. Demento Covered in Punk.
The punk version launches an all-punk revue of numerous Dr. Demento classics, but at the end of it all, the Osaka Popstar cover is just as iconic as the original. It even has its own video that per Night Flight, pays homage to the original video, several Bill Paxton movies, Captain Beefheart and more:
Barnes & Barnes themselves are now releasing rarities, alternate takes, and b-sides of their tracks on CD Baby, which includes "Fish Heads" on at least one release. The song came along at a time when the show had a massive, national audience. Today, that success may be difficult to duplicate because it's become more of a niche, with the transition from broadcast radio to online streaming.
As for whether "Fish Heads" will always remain #1 on The Dr. Demento Show—or if something new will come along to take its place—remains to be seen. For now, though, it's unlikely that either "Fish Heads" or the runner-up, Ogden Edsl's "Dead Puppies," are going anywhere.
"I never say 'never,'" Dr. Demento told us, "but it'll be hard to top those two."
--
Find this one an interesting read? Share it with a pal!
And if you want a chance of getting that Fish Head EP for your own collection, consider signing up for our $25 tier on Patreon. Our next delivery of stuff will include items actually featured in previous Tedium issues! (Oh, yeah, the next issue of the zine is coming soon—it's been a little delayed, but we're nearing the finish line.)