Today in Tedium: In an era when people willingly put headphones on their heads to listen to random people talk about things for hours on end, stage banter is unusual in that it's essentially the same thing—people trying to fill time, often by improvising—in a completely different context. But for some strange reason, the setting somehow manages to change the tenor and approach to the improvisation completely. And the result is that some musicians are really bad at it—and, taken out of context, the banter can be downright bizarre or even depressing to listen to. Today's Tedium ponders the surprisingly difficult art of stage banter. — Ernie @ Tedium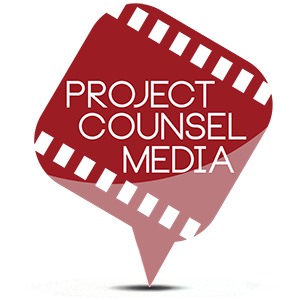 Bring a spark to your message. Project Counsel Media is looking to highlight interesting companies both on-screen and in the written word. Founder Gregory Bufithis, a digital media lawyer and journalist, knows a thing or two about telling great stories. Let him tell yours.
Today's issue is sponsored by Project Counsel Media. See yourself here?
"I have to say, you know what, it's a little disappointing that today that we're playing in the daylight, because you can't see our laser show. We have a huge green and red argon laser show—it's happening right now, but you can't see it!"
— Ed Robertson, the lead singer of Barenaked Ladies, at a 1998 show in Mountain View, California, around the time that "One Week" was topping the charts. BNL, a band known for its epic stage banter—which it often improvises into full songs—once made fun of Hoobastank on stage, only to get a bouquet of flowers at its next show with a note, supposedly from Hoobastank, that stated the following: "Heard you was talking smack / We are waiting till you say / You are sorry / You've got one week." The note was actually sent by electronic musician Dan Deacon, which was a great moment for me personally, as it meant that one of my favorite bands of my teen years was pranked by one of my favorite musicians of my 20s while I was in my 30s.
The challenge of creating good stage banter
During the summer of 2013, the lead singer of a band well-known for evoking the sounds of Bruce Springsteen found himself stuck in a banter-driven corner after a failed attempt at revving up the crowd.
The Gaslight Anthem's Brian Fallon, whose band was playing a multi-night stand at New York City's Pier 26, tried a number of efforts to get the crowd into a singalong, but failed to get them going. About a minute and a half in, after a failed Lady Gaga singalong, he said "Want to do something different?"—and hecklers in the crowd, being at a show for a band known for its Bruce Springsteen-style music, started saying "Bruuuuuuuce!"
To put it simply, the moment got away from Fallon, who did not take the situation very well—posting about it later on his Tumblr page, writing that he's happy that the music he's created has built a fan base, but adding:
However, I feel it necessary to address that we are The Gaslight Anthem. We play Gaslight Anthem songs. We're not the band you think we may be akin to. My name isn't Bruce, It's not Eddie, or Joe, or Paul either. If you'd like to hear their songs they are readily available and the former two tour quite often. You should go see them, they put on great shows. They play long sets over two hours sometimes. It's truly amazing to watch them at their craft. But again, we're not them.
At NPR, writer and radio host Mike Pesca (currently at Slate) got wind of the controversy and had a different take on it: Fallon sucks at stage banter, at least in this particular instance. Which is fine! It's a tough thing to do well. Pesca saw an opportunity, however, for some unsolicited advice.
"As the one in charge he needs to lead, and not be surprised when an audience, confused about the direction being taken, veers off on its own," Pesca wrote. "I can think of another performer who interacts with the audience masterfully—in fact it's a highlight of one of his shows—but I of course dare not speak his name."
Blogging, of course, is a game of unsolicited advice and opinion. But improvising is not an easy art to learn—even folks with quick wit can't always pull it off, which is why I don't have a podcast.
But everyone has their moments of weakness. Fallon had been at the live music game for nearly a decade at the point of this setback—a reminder that any musician, no matter how seasoned they are at being on stage, can have a moment of struggle. We should allow our musicians that.
Certainly, Fallon's failure that night is well in the past at this point. It would be basically forgotten about if not for the fact that I'm writing this piece about the difficulty of stage banter.
But you know a horrible cycle of stage banter that a lot of people still remember? It exists courtesy of Elvis Presley—or, to be more specific, his manager.
"31 minutes of spliced chit-chat from his 4-year, 77-concert jaunt does get repetitive and wearing."
— New York Times columnist Shaun Considine, in a 1973 column discussing Having Fun with Elvis on Stage, now widely considered one of the worst albums of all time. Ironically, Considine's comment appeared in a Times piece about artists having autonomy to release whatever they want—which is something that can definitely not be said about Having Fun with Elvis on Stage.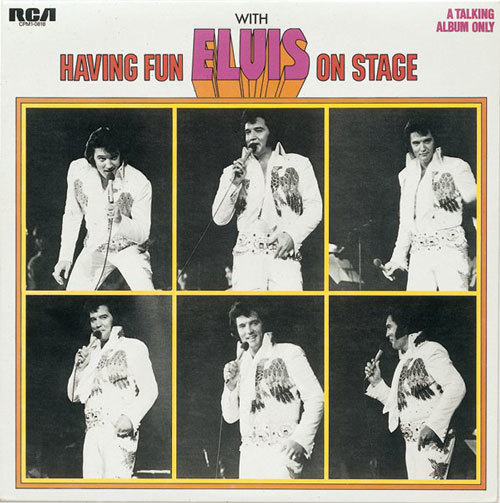 The contractual quirk that brought Elvis' worst record to life
A few things are very well known about Elvis Presley's later career: He met with Richard Nixon in the Oval Office; he liked peanut butter, banana, and bacon sandwiches; and his concert appearances declined in quality as a result of his fading health.
Oh, and there's the matter of his longtime manager, Colonel Tom Parker, his longtime manager (who, fun fact, is a Dutch national and was an undocumented immigrant with an apparently shady past). Parker was always looking to squeeze an extra buck out of his client, but was tied down to some degree by Elvis' existing record deal with his longtime label, RCA.
Parker wanted to sell an Elvis album at the artist's shows, but wanted to do so without having to give anyone else a cut. Unfortunately, he couldn't release any music by Presley without getting RCA involved—but thought that he might be able to get around the issue if he released an album that didn't feature Presley performing any music.
Now, this would be great if Presley was as gifted at stage banter as Ed Robertson of Barenaked Ladies (or Robertson's former cohort, Steven Page), but at this point in his career, he was dropping some seriously strange commentary. He had introduced karate moves to his act; he sometimes had trouble keeping to a single line of thought; and he at one point compared himself to Fat Albert in commentary that could best be described as awkward and opened itself up to far worse descriptions.
But in the right eyes, of course, this banter might have been seen as charming—especially to the type of person who found themselves at an Elvis Presley show in the mid-1970s. And Presley had a lot of "right eyes" looking at him.
Unfortunately, even the resulting album, Having Fun with Elvis on Stage, was a bust for the fans that might have enjoyed the King's oddball rants. The reason comes down to the editing, as the record brings together Elvis' already-weird stage banter in a nonsensical way that comes off as incomprehensible.
Stage banter generally works best in small doses, in the broader context of a full live album or within a proper show. Going back to the well of comparing Elvis Presley to Barenaked Ladies as if that comparison makes any damn sense, BNL's Rock Spectacle—which probably deserves a spot next to Frampton Comes Alive and Cheap Trick at Budokan on the list of live albums that successfully broke a band into the U.S. mainstream—only used the banter in a handful of places (mostly on the hidden tracks), despite the band specifically being known for that banter.
Elvis saying a bunch of random things in a zero-context format makes for a good piece of rock miscellany (as does the fact that the album actually charted), but it makes for a horrible listen. There's a reason why Having Fun with Elvis on Stage is considered his worst album by far.
(And it didn't even fulfill Parker's original goal for the record, by the way! Despite the intention of releasing an album that RCA didn't own the rights to, RCA ended up taking ownership of the album anyway.)
Five examples of musicians who are really freaking good at stage banter—intentionally or not
In the 45-plus years since Having Fun with Elvis on Stage first went on sale, the sort of hot-mic, out-of-context chatter that defined that bizarre record has arguably become more common. How could it not? Everyone has a microphone in their pocket now, making it easier than ever to record every onstage performer's random spare thought.
But unlike Presley's incoherent ranting, which was a crass commercial play, the use of banter has increasingly become a source of artistic output.
In 2017, for example, a music collective, Object Collection, took the widely available stage banter of Fugazi, which had been recorded by sound engineers throughout the band's 16-year history and is available for purchase online, and turned it into a starting point for a so-called opera-in-suspension. Sure, someone also made a Having Fun Onstage With Fugazi mashup, but it's not nearly as inspiring as turning a band's many opinions into an operatic sound collage.
Composer Travis Just, who worked through the material with writer and director Kara Feely, said there was something special about the recordings that made them worthy of such a treatment.
"There's something sonically distinctive about them, that carries through the detritus that we're scoring, and is reflected in the way that they played, in the stuff that they're talking about in their songs, the way that they would organize their tours, and the way that they would interact with their audience," Just explained to The Guardian in 2017.
And this concept is not just limited to stage banter, either. In 1992, an on-the-radio outtake by Casey Kasem that featured the top 40 icon profanely criticizing U2 surfaced on a Negativland EP—and immediately led to U2's label, Island Records, threatening Negativland and its label, SST. The album saw rerelease years later with the tenor of Kasem's not-quite-accurate criticism intact.
It was clear that, even as far back as the early '90s, bands were becoming aware that their bizarre or offbeat comments would live a second life long after the concert—given the fact that so many acts allowed people to record their shows, how could it not?
Now, the artists themselves are getting in on the meta-commentary. We would not have Father John Misty if we didn't have Having Fun with Elvis on Stage.
In a way, it almost doesn't matter if the stage banter is good or not. Something a performer said on a stage 30 years ago objectively loses a good or bad quality about two hours after the show ends. What matters is if it's interesting enough that it's worth remembering.
Elvis didn't get that, but Barenaked Ladies did.
--
Find this one an interesting read? Share it with a pal! Also, thanks to our sponsor, Project Counsel Media, which will be backing the newsletter for the next couple of weeks.