Hey all, Ernie here with a piece from Andrew Egan, who decided to dig back in his job history for a fascinating anecdote about being a pioneer of sorts—a listicle pioneer, if you could call it that. I love this story, and I think you will too by the end. Read on:
Today in Tedium: Tracking trends is hard. Predicting trends almost always makes you look dumb. Unfortunately, tracking and predicting trends is a major part of publishing. From fashion to finance, readers want to know what's coming next. Ideally from a reliable source; more often than not, asserted authority will do. In a past life, I attempted to be one of those authorities by hiding behind a well-established magazine brand. I had a cool title, by-lines, and I even got business cards. I was also 21 years old and had no idea what I was talking about. Today's Tedium is revisiting 2008 and an article I wrote that attempted to predict what was coming next. (Hint: I was wrong … mostly.) — Andrew @ Tedium
And while you're here, check out a cool tool. ↴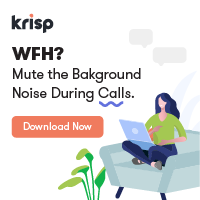 Fight the background noise … and win. If you're stuck at home trying to do video calls with lots of background distractions, a little AI could help drown those noises out. Check out the AI tool Krisp, which does just that. It's one of Ernie's favorite programs, and it has a free version.
15M
The amount of monthly traffic claimed by Forbes digital properties in 2006. This number would be disputed by The New York Times, who estimated the real numbers were likely less than half that figure. In this era, Forbes was able to attract $55 million in ad revenue. These numbers are basically unheard of nowadays.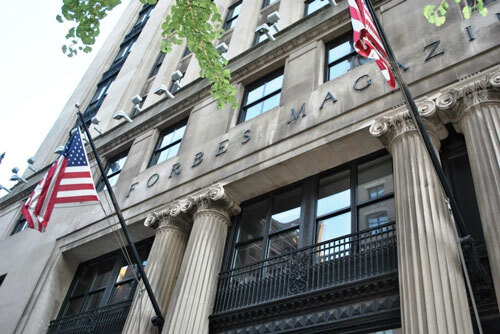 Articles online make big claims 1,000 times a second
By any measure, I got lucky when I landed an internship at Forbes Magazine in the summer of 2007. It was even more amazing that they somehow hired me to be a reporter at the end. Admittedly the job offered low-paid and I worked remotely, making the network opportunities few and far between. I was living in Austin with my editor and company contact living in Houston.
The work was basically fact checking. I rarely got words into the magazine, which made sense, I wasn't in New York. At the time, Forbes was still shaping a strategy for their digital operations. None of the real writers and reporters wanted their work to appear online only. Good thing I wasn't a real writer or reporter.
Sensing an opportunity to get bylines from Forbes, I pitched an article that I am ashamed and proud of, horrified and humored by. "15 Websites Hip Kids Love" was a big hit for Forbes and, at the time, was one of their first forays into listicles.
The premise of the article is pretty simple: 15 sites used by tech-savvy millennials at the end of the naughties. In fact, the piece is so old that "millennial" hadn't quite yet found its way into common media parlance. We were still using "Generation Y" to describe my age cohort. Which should give you some sense of the sites listed. Apps were still a new fad and websites were still king, though not for much longer. What resulted is a snapshot of the Internet, when the iPhone was just a year old, before everything started going mobile. It is also a great example of the terrible predictions journalists make trying to get a few more views.
It's a model that Forbes has since embraced wholeheartedly.
$1B
The value given to Hulu three months before its launch in 2007. Equity partners outside of the entertainment industry were keen to invest in streaming but most didn't make it to payday. A venture between FOX, ABC, and NBC, Hulu was billed as a direct competitor to Netflix … but no one wanted to give up their content.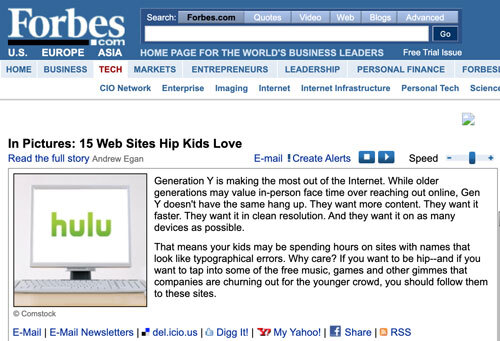 A broken watch is right twice a day
Other than the ability to publish on an Alexa top 100 ranked website, I had no real authority to write about tech trends in 2008. I have even less authority to write about them now. Still, a few entries made the list that I'm a little proud of. And amazingly, I even use a few to this day.
So let's take a look at the grand predictions I thought would gain enough traction among the youth to become the next behemoths in tech. (If you want to go ahead and just see the article rather go through this with me, feel free!)
The Forgotten
These are the sites that had a great idea and maybe even great execution but failed to catch on. A number have their fans that fondly remember the countless hours they spent on these now largely forgotten relics of the Internet. In 2008, I thought they had a real shot at being something big.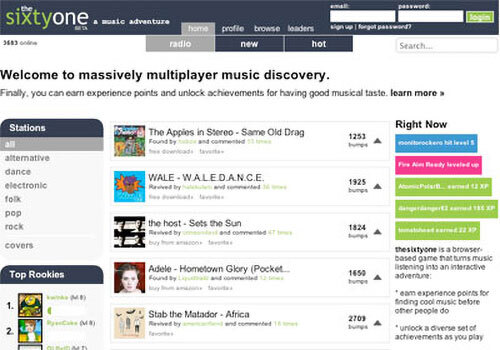 TheSixtyOne.com: This defunct music streaming site used collaborative filtering to create "massively multiplayer music discovery". The goal was to turn music and fan advocacy into a game. Users could earn points that would allow them to "bump" certain artists to the top of the site's charts, making them more visible. The Sixty One's novelty drew lesser-known artists but many were still signed to large indie or major labels. The site was clipping along for a few years until (and this will be something of a theme on this list) a fatal redesign in 2015 reduced traffic. By 2017, co-founders Samuel Hsuing and James Maio shut it down.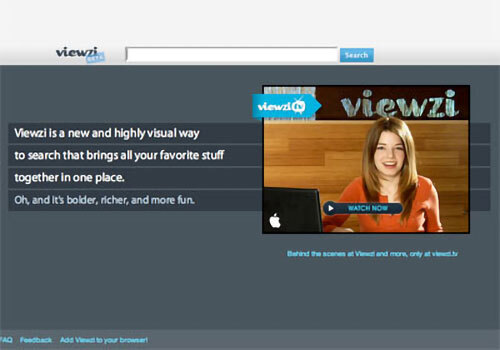 Viewzi: If I had venture capital to invest in 2008, I would have put it into Viewzi. And I wasn't the only one. TechCrunch has glowingly reviewed the visual search engine just two months before my article. At the time, search was convoluted when dealing with various media. Portending features that would become standard in Google Search, Viewzi offered multiple search results in, at the time, a breathtaking variety but focusing on images, video, and audio. Created in 2006, the company raised over $1 million in seed funding by April 2008 but ceased developing the platform later that year. Just two months after my article ran. Ugh. Good thing I didn't have money back then.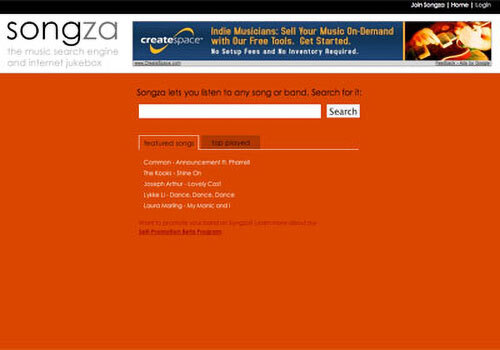 Songza: Placing Songza in the "loser" category probably seems a bit unfair, especially when you learn they get a happy ending. A music streaming service launched in 2006, Songza was a then novel "on demand radio station" and precursor to Spotify. Songza didn't have everything but it was a large amount of music that paid artists through traditional royalty services, like BMI. I wasn't the only one who noticed the value in Songza. The company was purchased by both Amazon and later Alphabet before being shut down to be incorporated into the Google Play system. However, the company ultimately scrapped its 2008 product to completely rebuild. The team may have eventually figured it out but the 2008 version was definitely a loser.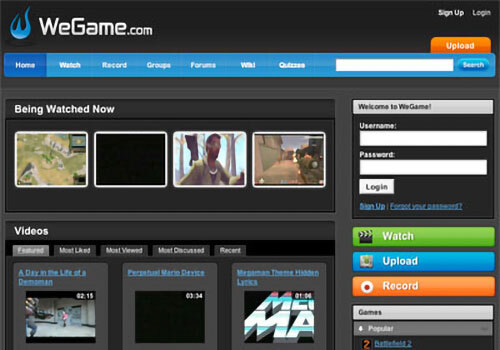 WeGame: Probably the most innovative idea in this category, WeGame claimed to be "a social platform for gamers, allowing them to build a gamer-social-and-interest graph through other users' recommendations." Users nowadays would probably recognize it as a Twitch pre-cursor. Users could watch speed runs of classic games while sorting through recommendations for what they should play next. Founded by 19-year old Jared Kim, WeGame raised $3.5 million in funding by April 2008. The company was acquired in 2011. The URL is now owned by Chinese gaming conglomerate Tencent.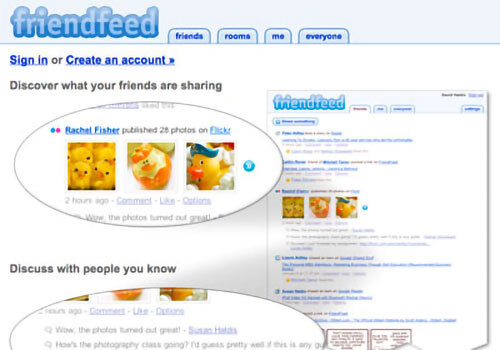 Friendfeed: Yeah, I don't know what I was thinking with this one. Facebook had already become ubiquitous but not yet the democracy destroying behemoth we know today. The assumption was that the next big thing was coming soon. Friendfeed launched in 2007 and attempted to aggregate the already sprawling social media landscape by letting you follow your friends various feeds from one convenient location. The site initially gained traction for custom RSS feeds but grew to support a who's who of now forgotten bookmarking, social media, and photo services. (Remember Delicious?) Facebook bought Friendfeed for more than $40 million in cash and stock in 2009 but shuttered the service by 2015.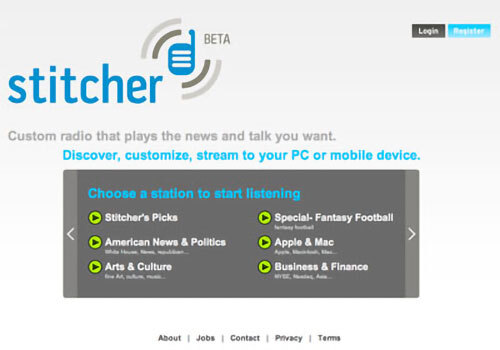 Stitcher: Of the sites on this list, this was the one I found at its earliest stage. Launched in August 2008, Stitcher was simple internet radio. However, its focus on news radio made it an invaluable source of white noise in proper office settings. While not a major source for music, Stitcher found a niche in the pre-podcast era by teaming up with major media partners, like WNYC, CNN, MSNBC, and others. Though it's been bought and bounced around by various owners, the company is still going though not without controversy. Stitcher has been accused of monetizing content without compensating the original creators.
The Nostalgic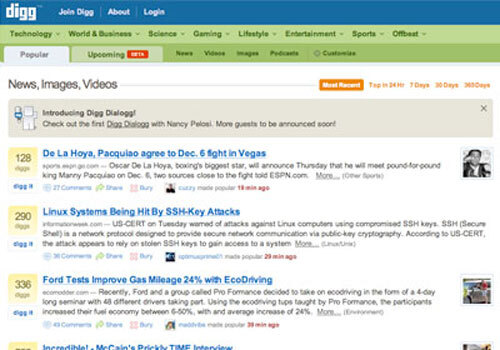 Digg: Old Digg, before the v4 redesign, was a pretty special place. The Internet has always been a big place so finding something interesting took a lot of effort in the early days. A repository of interesting things was a gold mine. That was the earliest iterations of Digg. Founded by Kevin Rose, the site rose to quick prominence (including a Forbes Magazine cover for Rose) as the web's premiere tastemaker. Deep dives into the v4 redesign are worth the read as it ultimately led to the site's "downfall", which also created an opening for Reddit that they have yet to relinquish. Digg is still alive today and features editor curated stories from any place that produces great content. Still, it's a long way from what it was.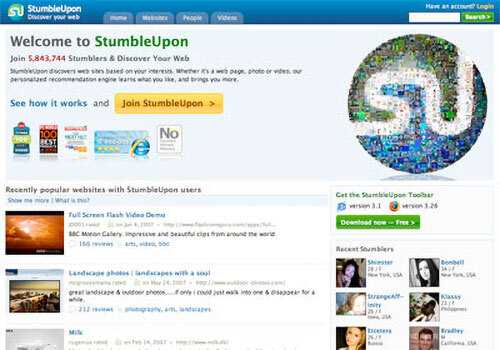 StumbleUpon: As far as time-wasters go, StumbleUpon was top tier. StumbleUpon was less a website (though it was) and one of the first really great extensions for alternative browsers like Firefox. The idea was simple and great. A discovery engine based on user input, StumbleUpon was another collaborative filtering project that made the experience of finding neat content as easy as hitting refresh. The company was fairly mature by 2008, having already sold to eBay for $75 million. Instead of cashing out into the sunset, the original founders it bought back a few years later only to endure decreased traffic, increased competition, and layoffs before finally shuttering in 2018.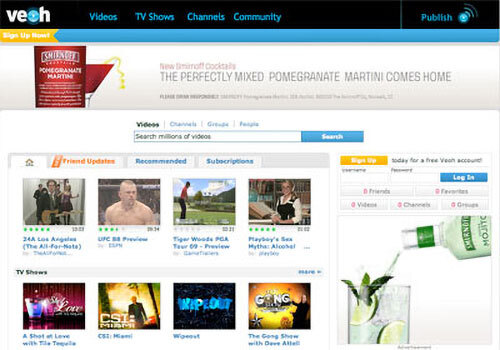 Veoh: If you had to pick a winner between Veoh and YouTube, the latter was always the obvious choice. Though both companies were founded in 2005, YouTube just seemed further ahead. But the content on Veoh looked cleaner. It looked more professional. Veoh was clearly going to the choice for the new wave of filmmakers enabled by digital cameras and editing equipment. And the company also had the early backing of Disney head Michael Eisner, which opened access to media from established players. Of course, I was wrong. Vimeo ended up filling that role better and YouTube started the wave of amateurs filming stupid videos, catching one-in-a-lifetime moments, and unboxing videos. Veoh still exists but it's not quite the same.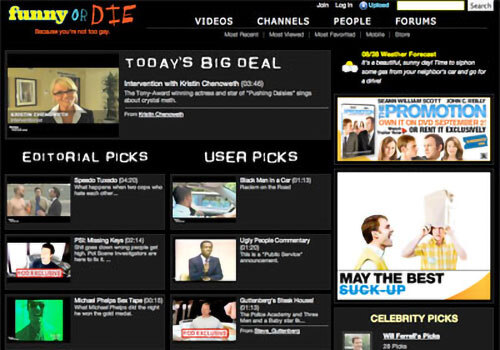 FunnyOrDie: Yeah, yeah, this one was obvious for the time. Maybe unsurprisingly, a lot of people in older media in 2008 still hadn't heard of one of the original viral video creators. The now legendary service was only founded in April 2007 but immediately found success with "The Landlord" featuring cofounder (and later Academy Award winner) Adam McKay's daughter. FunnyOrDie has long served as a comedic platform for established but less known talent. The company has since launched its own production company that lead to deals with Comedy Central and HBO, among others.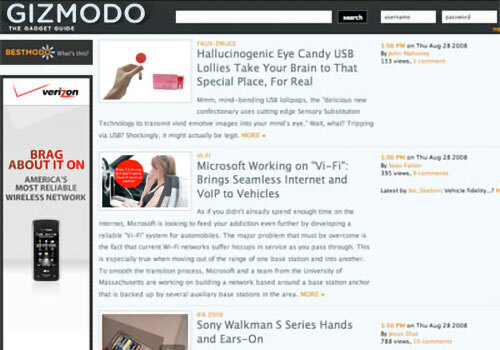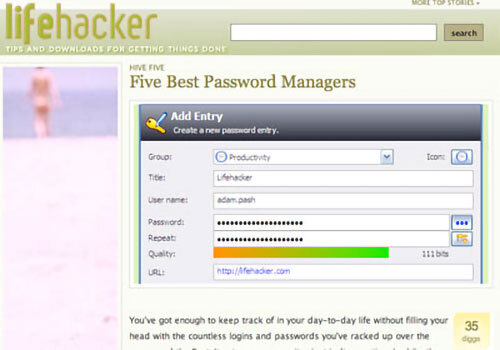 Lifehacker/Gizmodo: Each site earned their own entry but I'm grouping them here for obvious reasons. Gawker Network appealed to a niche demo. The kind that loved industry insight and gossip. Gossip would eventually be the network's downfall but in the meantime, Lifehacker and Gizmodo were invaluable resources for electronics, technology, and general life skills. Lifehacker articles often skewed toward grey areas of legality, such as "How to Crack a WiFi Password". Gizmodo tended toward legit breaking tech news but weren't above reviews of e-cigs. After the infamous Hulk Hogan lawsuit and sale to Univision, both sites ended up under G/O Media alongside their sister publications, like Kotaku, Jezebel, and Deadspin. (Side note: Jim Spanfeller, the much-criticized CEO of G/O Media, actually ran Forbes.com when I was there. I met him once at a holiday party. We talked about Queens.)
The Winners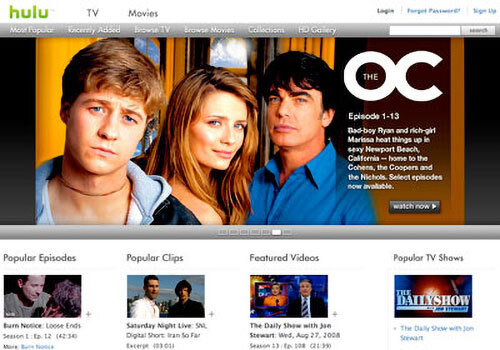 Hulu: Including Hulu in the original article was obvious. A joint streaming effort by some of the biggest names in media, Hulu was a direct assault at Netflix. The venture was worth a billion dollars just months after launch. The only problem was Hulu's lack of content. While the 2008 version hosted every episode of Arrested Development, it was lacking in usability even committing the cardinal sin of advertising before reaching widespread adoption. Hulu lost tens of millions annually but News Corp and Universal kept the faith. By the time Disney (via 21st Century Fox) acquired the platform in 2019, Hulu had become a staple streaming service. Of all the entries on this list, it's the only one that has ever gotten money directly from me. It still does.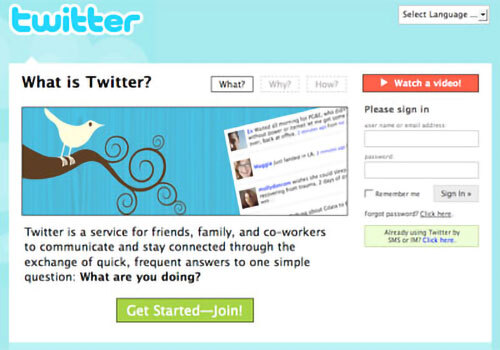 Twitter: Living in Austin during the early 2000s definitely had its advantages. The bands, the food, the people. And SXSW. Texas had long been a sleeper tech scene in the early days but the prominent local companies, like Dell and Compaq, were consumer facing and sales oriented. Innovative tech was still coming out of California. As SXSW started to develop, more of that innovative tech started getting debuted in Austin. When Twitter hit SXSW in 2006, it was a must have. I even downloaded it on my Blackberry.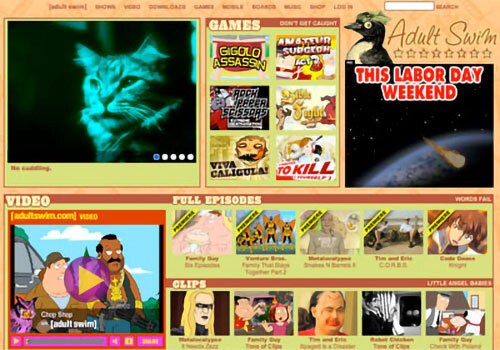 AdultSwim: I have no idea what the end game ever was for the Adult Swim website. I'm just glad it exists. I'm glad it exists now and I'm glad it existed then and at every point in between. At times, I believe, they've locked videos down by cable provider. At others, the whole site seems to be a free-use playground, anything free to binge, especially the content from their in house production company, Williams Street. The games that found their way to the site were clear precursors to the mobile games that came later. In 2008, AdultSwim.com was revolutionary. More than a decade later, it still is.
Forbes had an affinity for lists long before I got there. Typical assignments beyond the Forbes 400 included lists of charities and most valuable stadiums. That was most of the work. Eventually, some intern would have eventually pointed out the Buzzfeed formula, which was still kind of novel in 2008. Maybe that legacy falls on me. It's not likely.
Any given prediction is usually full of shit. Analytics software might be improving but it can't take everything into account. At least not yet. Google Analytics was still a pain to use back then. Who knows what happens next?
I was always embarrassed by the memory of the "Hip Kids" article. I hadn't looked at it in years. Some of the picks were easy, guaranteed to pass scrutiny of a legacy media company. A few I included because I used them. The rest were my best guesses and attempts at informed choices. I wasn't necessarily trying to predict the future. I needed to convince my editors I knew something they didn't. The goal was to keep my job.
Speculative journalism has always been left to those whose jobs are less than certain. Interns make bold claims, underpaid reporters state rumor as fact. Go ahead and skip any article making a prediction. Someone like me probably made it up.
--
Find this one an interesting read? Share it with a pal! And be sure to check out Krisp—it's one of our favorites around these parts, and trying it out supports us. Cheers!